Rainbow Sheet Pancakes
Between showering, getting school lunches ready, exercising, feeding yourself, feeding others--just a whole lot of running around--mornings can be hectic! We have a solution to cover one or two of those things, Rainbow Sheet Pancakes! Amongst the whirlwind happening around you, you can bake a fantastically colorful and delicious breakfast for everyone. With Suncore Foods® Pancake & Waffle Mixes, Powders and just one sheet cake, pour a rainbow of pancake batter and dapple it with your choice of berries or mix and match any topping combination, and you have a breakfast that will make everybody happy with an extra special, warm start to the day!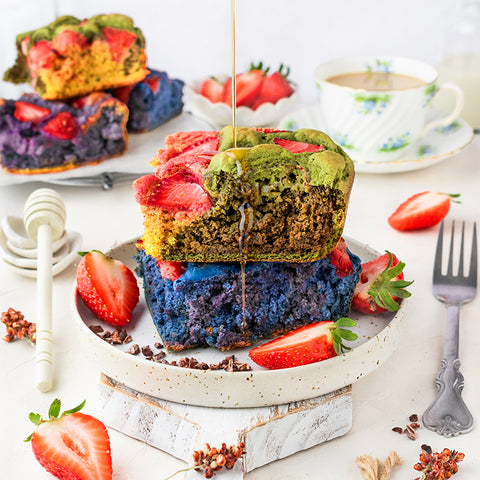 Directions
1. Preheat oven to 425 degrees F. and line a 11x7" baking tray with butter making sure you coat the sides.
2. In 4 separate bowls, 1 bowl per Suncore Foods® Pancake & Waffle Mixes, combine Suncore Foods® Pancake & Waffle Mixes, Suncore Foods® Powders, baking powder, cinnamon and sugar.
3. Add vanilla oat milk, butter and vanilla extract. Using a fork or a whisk, mix until well combined and free of clusters. Set aside for 5-10 minutes.
4. Prep strawberries and set aside. Spoon or pour batter into the baking tray, width wise, one Suncore Foods® Pancake & Waffle Mix at a time. The batter should hold itself up or spread very slowly, giving you enough time to form a rainbow. If any Suncore Foods® Pancake & Waffle Mix batter is more liquid than the rest, pour it in last.
5. Spread strawberries over the batter throughout the pan and bake for 20-22 minutes until the pancakes clear the toothpick test.
6. Allow pancakes to cool down for 5-10 minutes before cutting them into squares. Serve with maple syrup.
---