Matcha Cake Pops
You won't be able to stop once you have a bit of these Matcha Cake Pops! The gorgeous color of these earthy green flavorful wonders is mixed with Suncore Foods® Midori Jade Matcha Powder! Made perfectly to accompany that afternoon cup of coffee or tea and is going to be your new keeper!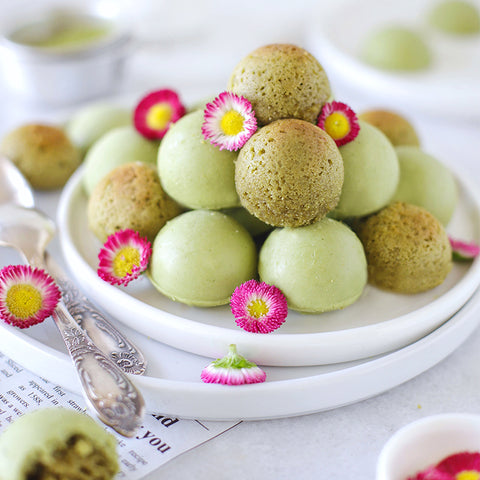 Directions
1. Preheat your oven to 350ºF . Lightly oil the inside of a cake pop mold (top and bottom piece)
2. Add lemon to the milk and let it curdle.
3. Sift in the flour, baking powder, bicarbonate of soda and Suncore Foods® Midori Jade Matcha Powder.
4. Use a separate bowl to whisk the wet ingredients adding it to it the almond flour. Add the curdled milk & stir.
5. Fill each of the cavities of the mold with cake batter – leaving about 1 mm between the surface of the batter and the top of the mold. Cover with the top mold, making sure to press all parts of the mold together securely.
6. Bake for 15 mins (or wait until it passes the toothpick test).
7. Remove from oven and let cool for 5 minutes. Open the silicone mold and let cool another 5 to 10 minutes before removing the cake balls.
8. Make your colorful glaze. (Add more Matcha to get a darker hue.)
9. Dip your cakes into the glaze and let it set.
⁣
---