Rainbow Tie-Dye Waffles
Can't chose which one of our Pancake & Waffle Mixes you want to use in the morning? Then use them all and make some Rainbow Tie-Dye Waffles! A delightful combination of our Suncore Foods Heroic Blue Spirulina, Power Pink Pitaya, Ultra Violet, and Zen Midori Matcha Pancake & Waffle Mixes! Each bite is full of surprises and exploding with yummy flavors. Kids and adults across the board will enjoy this colorful breakfast, because who would resist waffles, especially when they're amazing as these?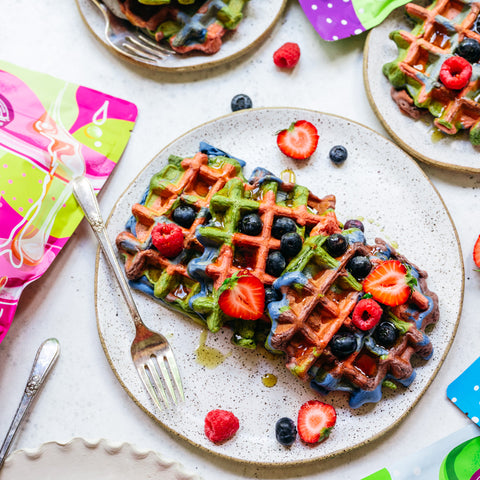 Directions
1. Combine the mixtures in 4 separate bowls and let rest for 5-10 minutes.
2. Preheat and grease a waffle iron, then spoon & paint the batter in alternating steps. Cook the batter as you would any waffles and serve. Enjoy!
---