Rose Petals Recipes
Many love the beloved rose for many reasons, and use them in many different ways for centuries, such as gifts, decorations, aroma, and food. The very same can be said for Suncore Foods® Rose Petals! Starting from a simple, yet full-bodied rose syrup, many dishes can be enhanced with the sweet aroma of our dried rose petals. The addition of roses works marvelous wonders in lassi, buttercream sandwich cookies, and no-churn cardamom ice cream. Watch these aromatic dishes come together in our recipe video!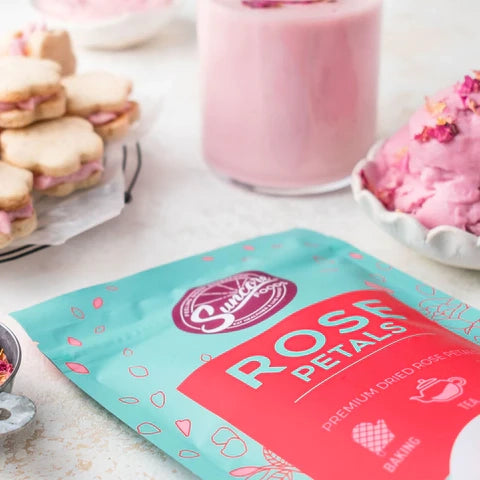 Directions
1. Rose Syrup — Steep Suncore Foods® Rose Petals in hot water for 15-20 minutes. Using the back of a spoon, press down on petals to release maximum flavor and color. Strain tea in a saucepan and discard rose petals. Add sugar to the same saucepan and bring to boil on medium-high heat. Boil for 2 minutes and reduce heat to medium-low. Continue to cook until the mixture starts to thicken, approximately 15 minutes (depending on the temperature). Remove from heat and allow syrup to cool down completely. The syrup will continue to thicken as it cools. Use immediately or transfer to a container. The syrup can crystalize once it's cool and in a container. If that happens, place the container in a pot of hot water for 10-20 minutes, stirring every 5 minutes until the syrup is liquid once again.
2. Rose Lassi — Blend all ingredients together until well combined. Taste the lassi and add sugar if needed. Transfer lassi to a glass and garnish with Suncore Foods® Rose Petals.
3. Rose Buttercream — Using an electric beater, cream butter for 2 minutes until fluffy. Add cream of tartar and rose syrup. Mix in sugar, 1 cup at a time, until well combined and add Suncore Foods® Pink Pitaya Powder. Lastly, fold in rose petals. Transfer buttercream to a piping bag and add to cookies as per preference. Simple cookie recipe mentioned below.
4. Cookies — Combine milk and flaxseed meal and set aside for 5-7 minutes, stirring every 2 minutes. In a large bowl, cream together butter and sugar until fluffy and well combined. Mix in almond extract plus milk-flax mixture. Fold in flour and salt and form a dough ball. Tightly wrap dough in cling film and refrigerate for minimum 1 hour up to overnight. When ready to bake, preheat oven to 350 deg. F and line a baking tray with parchment paper. Separate dough into 2 portions and work with 1 portion at a time, while keeping the remaining dough refrigerated. Using a rolling pin, roll out the dough to approximately ¼ inch thick. Using cookie cutters, cut dough and place cookies on the baking tray. Bake for 8-10 minutes. Allow cookies to cool down completely before adding buttercream.
5. No-Churn Rose Cardamom Ice Cream — Place coconut cream, condensed milk, vanilla extract, rose syrup, Suncore Foods® Cerise Prickly Pear Powder, cardamom and salt in a blender and set aside (don't blend yet but keep it ready). In a saucepan, dissolve corn starch and agar agar powder in oat milk. Place the saucepan on medium heat and bring to boil, stirring every few minutes. Don't allow the mixture to stick to the bottom of the pan. Reduce heat and simmer until the mixture starts to thicken. Remove from heat and immediately transfer mixture to the pre-prepped blender and blend all ingredients until smooth and very well combined. Taste ice cream mixture and if needed, add additional sugar and blend again. Pour ice cream into a freezer safe dish and gently tap the dish to remove air bubbles. Freeze overnight and allow the ice cream to thaw for 5-8 minutes before serving. Garnish with Suncore Foods® Rose Petals when serving.
---