Rose Buds Ebony Carrot Bread
Up your breakfast or afternoon tea game with a stunning loaf of freshly baked Rose Ebony Carrot Bread Loaf! People always say that nothing beats the smell of freshly baked bread. How about the smell of freshly baked bread infused with Suncore Foods® Rose Buds? It's hard to turn down this enhancement. Follow your nose to the source of the sweet and irresistible aroma, and you'll find extraordinarily striking slices of deep purple bread made with Suncore Foods® Ebony Carrot Powder. With bread so incredibly tender, soft, and extraordinary, you'll never want to go back to plain old sliced bread again! Watch gorgeous loaf come together in our recipe video!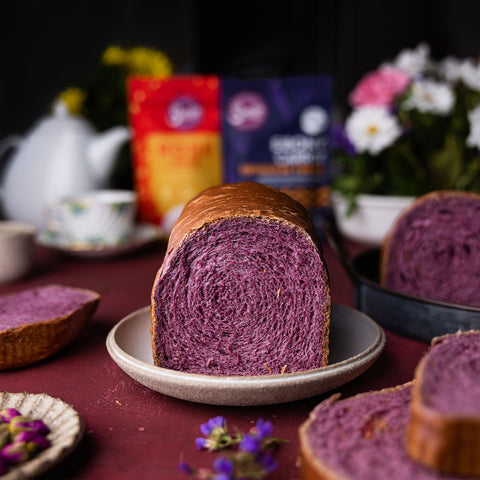 Directions
1. Steep Tea — Combine Suncore Foods® Rose Buds with hot water and set aside for 15 – 30 minutes. The longer you steep the tea the stronger the rose flavour will be. Using the back of a spoon, press down on the rose buds in order to extract maximum flavor. Strain the tea into a clean container and discard rose buds.
2. Combine warm water, sugar and yeast and set aside for 10-15 minutes, until the mixture is frothy and the yeast is activated.
3. Add rose tea to the bowl of a stand mixer. Add activated yeast mixture. Using the dough hook attachment, mix in olive oil on low speed for 30 seconds to a minute.
4. Mix in remaining ingredients, except rose buds, on low speed (or at the mixer recommended speed for dough) until the dough comes together and is no longer sticking to the walls of the bowl.
5. Remove dough and form a dough ball. Place the dough ball in a clean bowl, cover and proof the dough for 60-90 minutes.
6. Lightly oil the inside of the bread pan and set aside. Once the dough has risen, punch the air out and using a rolling pin, roll the dough out into a long rectangle, approximately 24" in length and 4-6" in width.
7. Break off the green stem from the Suncore Foods® Rose Buds and sprinkle rose petals over the dough, leaving 1-2" free on each side. The more rose petals used, the stronger the rose flavour will be.
8. Starting from one end, roll the dough inwards forming a rolled dough log. Place the dough in the bread pan with the crease side facing down. Cover with a kitchen towel and set aside for 1 hour.
9. When ready to bake, preheat oven to 350 deg. F. Brush the dough with plant-milk and bake for 45-55 minutes. After 35 minutes, cover the bread pan with aluminum foil and continue to bake. Once ready, the top of the loaf should be golden-brown and should sound hollow when you tap on it.
---