Rainbow Ice Cream Bombs
We think our tastebuds just exploded with these fabulous Rainbow Ice Cream Bombs! Having trouble deciding what ice cream flavor you want? Well you don't have to choose with these perfect sized desserts! Only 4 plus our powers, it's that easy. Incorporated Suncore Foods® Pink Pitaya, Lilac Taro Yam, Yellow Goldenberry, Blue Butterfly Pea, and Midori Jade Matcha Powders for these fun colors, but you can explore our selection of powders for even more stunning hues! Once you make these, they will for sure be gone in no time, enjoy!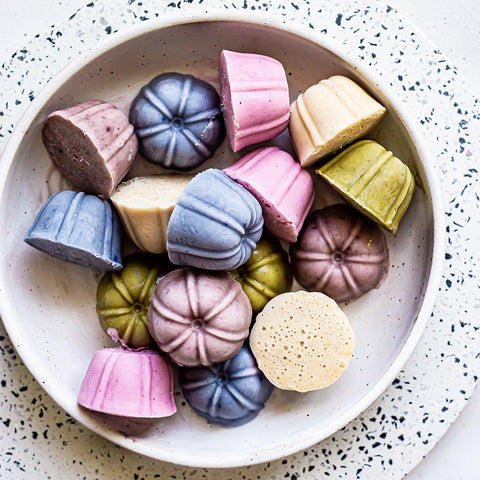 Directions
1. Blend all of the ice cream ingredients together in your blender (minus the powders). Pour the mixture into a large bowl. Take 1/2 cup of ice cream mixture and add it back to your blender with your first powder. Blend until well incorporated. Pour into a silicone mini cupcake pan (or alternatively a cupcake-line mini cupcake tin).
2. Rinse your blender out and repeat the process for all powders. Freeze 4 hours, best overnight. Enjoy!
---