Rainbow Heart Shaped Steamed Bun
Our hearts definitely skipped a beat from these Rainbow Heart Shaped Steamed Bun! A beautiful way to get creative with your steamed buns and enjoy the bursting dazzling colors from our stunning Suncore Foods® Powders! Incorporated our Suncore Foods® Blue Butterfly Pea, Midori Jade Matcha, Pink Pitaya, Purple Sweet Potato, and Red Beet and Yellow Goldenberry Powders to create a marvelous unique rainbow that can absolutely make all our hearts fluster any moment! Check out of wonderful selections of our Suncore Foods® Powders and find the key to our hearts through your beautifully colored delicacies!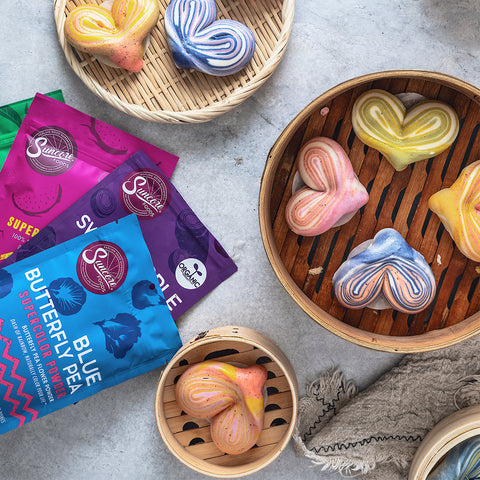 Directions
1. Mix all ingredients in the bowl of stand mixer. Knead the dough until the dough becomes smooth on the surface, around 15 minutes.
2. Divide the dough into 6 pieces, and add the color powder to each piece. Kneed to mix well. Divide each colored dough to 10g small pieces.
3. Take three 10g colored pieces dough and place one piece directly on top of another. Flat the dough using hand and then roll it to an oval shape. Take one edge and roll it up like jelly roll style. Flat it and roll it to an oval shape again.
4. Fold the dough into half. Cut the dough from the bended end, without cutting the other end. Open out and shape.
5. Place them into the steamer basket and cover with a lid. Proof for 30 minutes until double its size.
6. Add water to a pot steamer and put the steamer baskets with the buns inside. Steam over medium high heat for 10 minutes.
---