Rainbow Braided Challah
Take a moment to admire this beauty. We are in love. Colorful Rainbow Braided Challah Bread colored cheerfully using Suncore Foods® plant-based powders (Blue Butterfly Pea, Ebony Carrot, and Midori Jade Matcha). Looking to brighten your weekend? Create this recipe and make your weekend more colorful from your kitchen. This fun, fluffy, soft, and Colorful Rainbow Braided Challah Bread is as beautiful as it is tasty!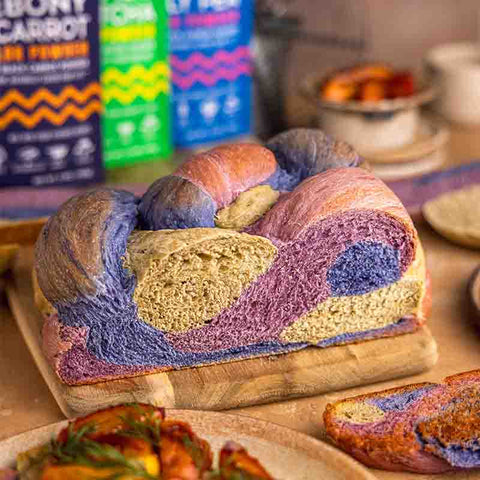 Directions
1. Prepare Dough: In the bowl of a stand mixer, combine warm water, sugar and yeast and set aside until the mixture is frothy. Mix in olive oil on low speed for 30 seconds. Mix in salt and bread flour on low speed (or at the mixer recommended speed for dough) until the dough comes together and is no longer sticking to the walls of the bowl.
2. 1st proof: Remove dough and form a dough ball. Place the dough in a clean bowl, cover and proof the dough for 60-90 minutes.
3. Knead in Suncore Foods® Powders: Punch the air out of the dough and lightly re-knead the dough for a few seconds. Cut the dough into three portions and knead Suncore Foods® Powders into one portion each.
4. Roll dough: Add parchment paper to a large baking tray and set aside. Working with one portion of dough at a time, roll the dough into dough ropes, 12-16 inches long. Ensure all three ropes are approximately the same size.
5. Braid Dough: Place the dough ropes on the baking tray and pinch the top end of the three ropes together, sealing the dough on one end and forming 3 strands. Gently lift the right strand and place in between the middle and left strand. Gently lift the left most strand and place in between the other two strands. Continue this process and braid the strands. Once you reach the end, pinch the three strands together and gently tuck the pinched end under the dough, sealing the braid.
6. Roll braid: Starting from one end, roll the braid inwards and tuck the end of the braid under the rolled loaf by gently pinching it together with the dough.
7. 2nd proof: Cover the dough with a kitchen towel and set aside for 30 - 60 minutes.
8. Bake: Preheat oven to 3750 F, when ready to bake reduce the oven temperature to 3500 F. Brush the dough with olive oil and bake for 30-35 minutes. Once ready, the top of the loaf should be golden-brown and should sound hollow when you tap on it.
9. Cool: Allow the loaf to cool on the baking tray for 10 minutes. Transfer the loaf to a wired rack and allow it to cool to room temperature before slicing.
---