Purple Sweet Potato Chiffon Cake
Prepare to be captivated by the stunning Purple Sweet Potato Chiffon Cake! This extraordinary creation features the romantic hue of Suncore Foods® Purple Sweet Potato Powder and a dash of Suncore Foods® Ebony Carrot Powder, making a true feast for the eyes and taste buds. Impress your friends and family with this show stopping dessert that combines both the elegance and flavor in perfect harmony. Enjoy the sweetness of life with this purple sensation!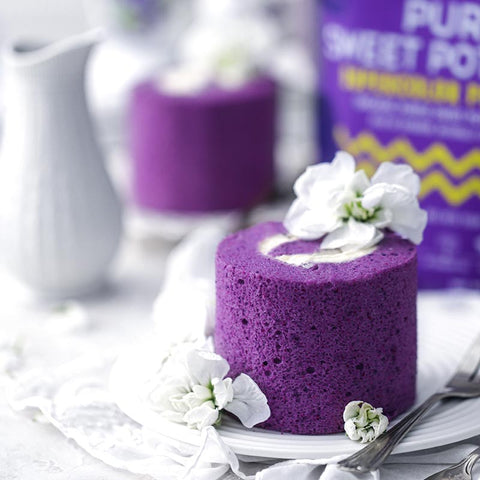 Directions
1. Preheat oven to 150 degrees Celsius.
2. Separate all the eggs. Place egg white in a large bowl. Set aside.
3. Mix Suncore Foods® Purple Sweet Potato Powder & Suncore Foods® Ebony Carrot Powder with water; set aside.
4. Place egg yolks in a medium size bowl, along with oil and milk. Stir with a wire whisk until well combined. Add in purple mixture, mix well. Shift in cake flour; mix until mixture is well incorporated. Set aside
5. Whip egg whites and sugar until soft peak form. Transfer 1/4 whipped meringue to purple mixture. Gently stir with a spatula to combine well.
6. Once ready, pour batter in the whipped meringue, using a spatula, gently fold the mixture until well incorporated. Transfer batter to baking pan lined with parchment paper.
7. Bake for 20 minutes. Let it cool on a wire rack completely.
8. To make the whipped cream filling, place cream and sugar in a bowl, whip until stiff peak form.
9. Removed cake from the pan, gently flip it around, remove the parchment paper.
10. Prepare one long parchment paper, flip the cake one more time, directly on the parchment paper (brown side up), spread a thin layer of cream on top of the cake.
11. Gently roll and refrigerate for few hours before serving. Enjoy!
---