Galaxy Snowskin Mooncakes
Today, it is about family & togetherness. It is time to give thanks and count our blessings. Happy Mid-Autumn Festival 2023! Here, we have the perfect celebratory Galaxy Snow Skin Mooncakes made with just a handful of Suncore Foods® Powders to create the gorgeous spectrum. Make this scrumptious, festive recipe and create your mooncakes with any eye candy color that catches your eye!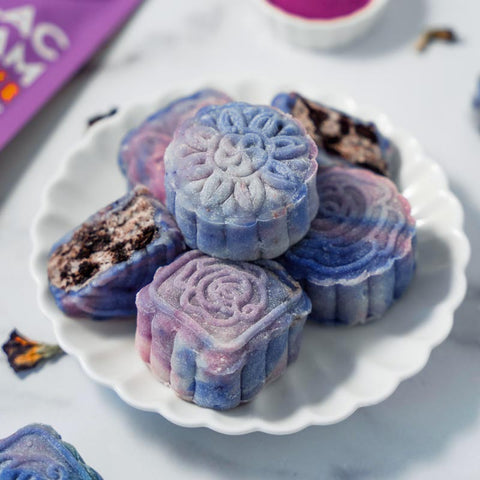 Directions
1. For the Filling — Mix together cream cheese, 15g sugar, and crushed cookies. Refrigerate for 20 minutes, then divide into 25g portions and roll into balls. Store in the fridge.
2. For the Snowskin — Stir together glutinous rice flour, plain rice flour, cornstarch, sugar, milk, and oil. Strain batter through a sieve into a tray.
3. Cover the tray with plastic and poke a few holes. Steam for 20 minutes.
4. With gloves on, knead the dough until smooth. Divide into 3 equal parts. Keep one white. Color one portion purple with Suncore Foods® Lilac Taro Yam Powder. Color the last portion blue with Suncore Foods® Blue Butterfly Pea Powder.
5. Roll the 3 colors into logs and twist together. Divide into 25g portions.
6. Flatten the dough then fill with cream cheese filling. Seal it, cover with some starch, and press in mooncake mold. Dust off excess starch. Enjoy!
---