Pink & Lilac Taro Yam Butter Cookies
Cookies in the morning, cookies late at night, cookies all day, here take another bite! Our buttery beautiful pink and lilac taro yam cookies are irresistible and leave you craving for more. Use Suncore Foods® Lilac Taro Yam, Ebony Carrot & Red Beet Powders to create this romantic, elegant pink and purple hue and add color to your dinner table. These treats will be perfect for any occasion, make a great dessert table! Roses are pink, violet is blue, this recipe is simple and fun. Have fun and it's cookie o'clock!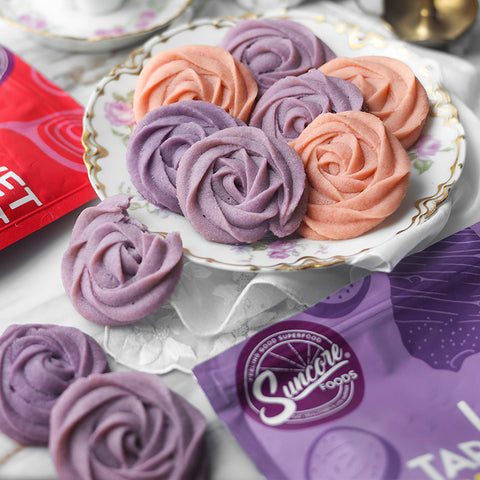 Directions
1. In a stand mixer add soften butter and powdered sugar, whisk until pale and fluffy, about for 1-2 mins. Add in coconut cream, vanilla and continue whisking 1 min. Add in flour, almond meal and Suncore Foods® Lilac Taro Yam Powder. Gently fold until just combined (do not over mix the mixture).
2. Fill dough into the piping bag and pipe a swirl or line on the prepared baking sheet. Transfer piped cookies to the freezer and let chill for 30 mins.
3. Bake chilled cookies in 170c Preheated oven for 15-18 mins. Allow cookies to cool completely.
---