Matcha Pistachio Cookies
A cookie a day keeps the sadness away! Cheer your day up with our beautifully delicious matcha pistachio cookies, the distinct flavor of matcha and crunchiness of pistachio make these cookies serenely delightful and unforgettable. Consuming matcha is always a good idea and with Suncore Foods® Midori Jade Matcha Powder, you can bake into these cookies its vibrant green color, and its heavenly taste! This cookie is a matcha made in heaven! So what are you waiting for? Let's put on those oven mitts and try this delicious recipe!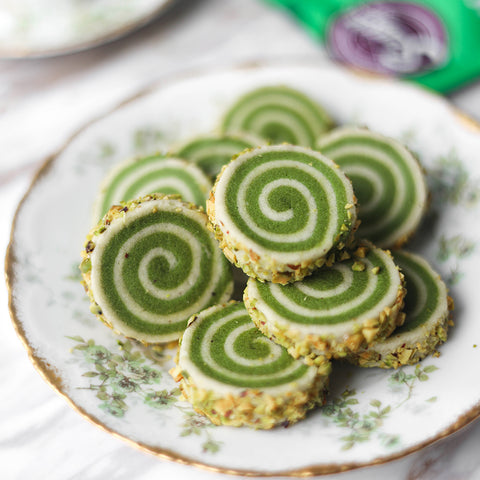 Directions
1. In a stand mixer, cream the butter, powdered sugar, vanilla. Add in flour, salt, mix for dough forms. Divide the dough into 2. Add dissolved Suncore Foods® Midori Jade Matcha Powder into the half dough and mix until combined. Cover dough with plastic wrap and chill in the fridge for 15 minutes.
2. Roll out dough until they form thin rectangle. Place matcha dough on top of the plain dough and begin rolling up the dough along the wide/long side of the rectangle, Place rolled dough in freezer for 20 mins.
3. Slice the cookies. Roll cookie in pistachios. Place cookies back in the fridge for 15 mins before baking.
4. Preheat oven to 160c. Bake cookies for 12-15 mins. Allow cookies to cool completely.
---