Blueberry Fig Tart
Are you ready for a fruity frenzy? This Blueberry Fig Tart is overflowing with a medley of flavorful fruits! With a dash of Suncore Foods® Indigo Blueberry Powder to create this soft subtle hue. Such a gorgeous creation, it's sure to quench your fruity cravings!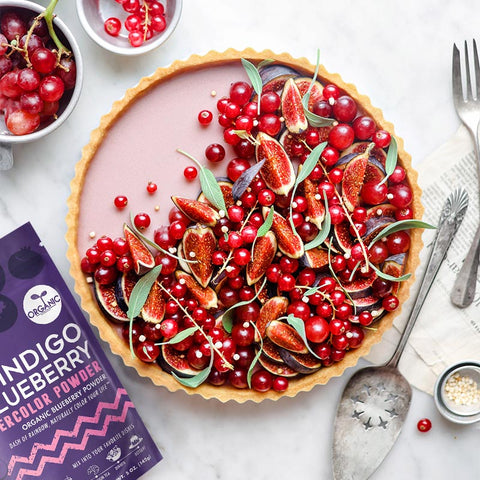 Ingredients
Makes A 10" Tart

Pastry crust:
1 1/2 cups whole wheat flour
1/2 cup almond meal
1/3 cup powdered sugar
120g dairy free butter
2-3 tbsp cold plant milk
1 tsp vanilla bean extract
Pinch of salt optional

Filling:
400g-500g grapes
2 cups water
1/4 cup maple syrup
Juice of 1 lemon
400ml canned full fat coconut milk
1 tsp agar agar powder
1 tbsp Suncore Foods® Indigo Blueberry Powder
Directions
1. Preheat oven to 180c. Grease a tart pan. Set aside. In a food processor, add crust ingredients pulse until a dough ball forms. Chill dough for 5-10 minutes if it gets warm. Roll dough into a large circle and carefully lift the dough and place on the prepared pan. Bake at 180c for 15 minutes. Allow to cool completely.
2. Place grapes in a pot, add water and bring the grapes and water to a simmer. Smash the grapes to allow better juice extraction. Let simmer for 5-10 minutes. Remove pot from heat. Strain the mixture through a fine mesh sieve.
3. In a saucepan heat coconut milk, add in grape juice and bring to a boil. Then add in agar powder, stirring constantly until agar dissolved. Whisk in maple syrup, lemon juice, Suncore Foods® Indigo Blueberry Powder and allow mixture to simmer for 1 minute.
4. Turn off the heat, strain mixture through a fine mesh sieve. Allow mixture to cool for 5-10 minutes. Gently pour into the tart. Place tart in the fridge to set. At least 4 hours. Garnish with grapes and figs. Enjoy!
---