Autumnal Baked Sweet Potato Yam Ebony Carrot Swirl Bread
One of the most favored smells that tops anybody's list is the smell of fresh baked bread. The heavenly aroma emitting from the oven never fails to captivate and warms the home with enticing comfort. With Suncore Foods® Autumnal Baked Sweet Potato Yam, Ebony Carrot, Red Beet, and Yellow Goldenberry Powders the hypnotizing swirl of majestic gold and purple can bring an abundance of fun to any meal or snack! There is nothing quite like the addictive comfort of eating a fluffy and tender slice of bread, and with its touch of sweetness, this Autumnal Baked Sweet Potato Yam Ebony Carrot Swirl Bread will disappear from the pantry in a snap! We can't wait to brew a cup of coffee and set out a spread of soft butter, jam, and cheese to truly enjoy the blissfulness of this bread.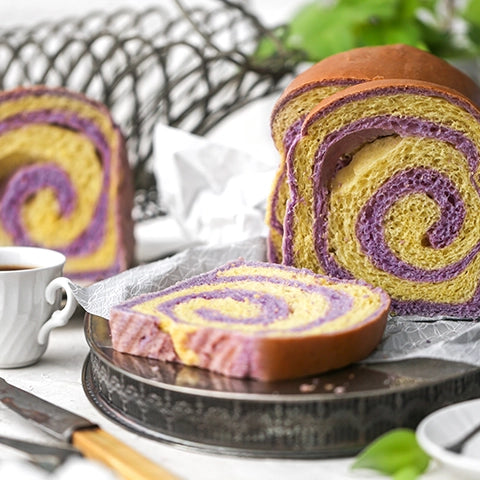 Directions
1. Add yeast and sugar to warm water, mix well. Set aside while you prepare other ingredients.
2. Place flour, sugar, salt, olive oil and yeast mixture in the bowl of your stand mixer with a hook attachment.
3. Mix everything on low speed until everything is incorporated. Turn to medium low speed and knead until dough becomes smooth.
4. Transfer dough to an oil bowl. Let it rest for 30 minutes.
5. Mix Suncore Foods® Ebony Carrot Powder with water. Set aside.
6. Mix Suncore Foods® Autumnal Baked Sweet Potato Yam Powder & 1/2 tsp Suncore Foods® Red Beet Powder & Suncore Foods® Yellow Goldenberry Powder with water in a separate bowl; set aside.
7. Divide the dough into halves. Add purple paste mixture to half of the dough. Knead on lightly floured surface by hand until well incorporated. (If your dough is too sticky, add another tbsp of bread flour)
8. Repeat the same process for the orange dough.
9. Roll out purple dough on a lightly floured surface into a rectangle shape (about 1.5 cm thick); repeat the step for the orange dough.
10. Brush water on the purple dough sheet; place the orange dough sheet on top of the purple layer. Gently roll them with light pressure using a rolling pin.
11. Once ready; roll the dough into a log shape, place it in prepared pan. Let it rise for an hour.
12. Preheat oven to 175 degrees Celsius. Brush the top of the bread with plant milk; bake it for 20-25 minutes. Enjoy!
---