Blooming Glass Sugar Cookies
Say hello to some of the most beautiful Blooming Glass Sugar Cookies we've ever laid our eyes on! A delicately crisp cookie that requires only 3 total , how can you not want to immediately preheat the oven and get these cookies baking! Flowers make a fantastic gift and warm the hearts of whomever receives them; imagine what happens when given flowers within a decadent caramel centered cookies! Quality is of the essence with these cookies, and we guarantee that jaws will drop once your lucky recipient lays their eyes on these beauties.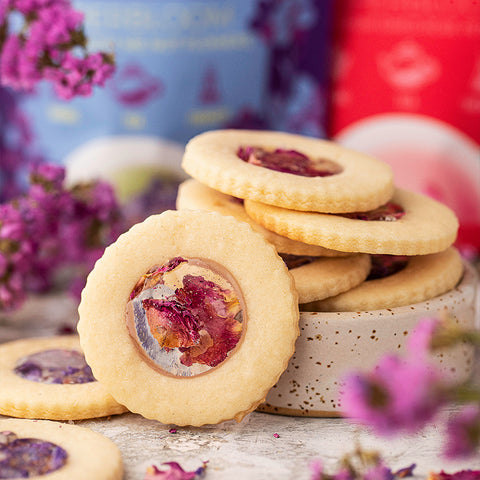 Directions
1. Preheat oven to 350'F.
2. In a bowl of a stand mixer cream together room temperature butter and powdered sugar until fluffy for about 5 minutes. Add flour and stir until incorporated.
3. Shape dough in flat disc, wrap in plastic and refrigerate for 30 minutes.
Roll out dough between parchment paper and cut out cookies using a cookie cutter.
4. Cut out center with a small round cutter. Bake at 350'F until lightly browned at edges.
5. Remove Suncore Foods® Forget Me Not Flowers from a stem and put into the center of half of the cookies. Put Suncore Foods® Rose Petals into the center of remaining cookies.
6. Place isomalt crystals in a small pot over medium heat. Once its boiling remove the pot from the heat until bubbles settle down. Immediately pour it into the center of the cookies over dried petals and flowers. Let it set for a couple of minutes.
---