Pink Pitaya Summer Tacos
Jazz up your taco with a pretty pop of pink Pink Pitaya Taco loaded with lots of lots of grilled vegetables + sweet and spicy tempeh + hemp seeds! These tacos are fluffy, delicious and almost too pretty to eat... almost!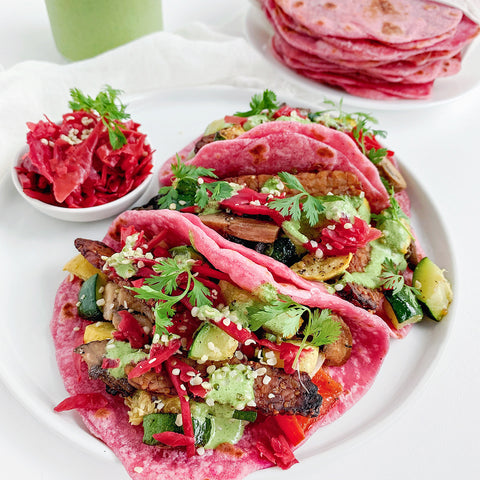 Ingredients
Sweet and Spicy Tempeh:
8oz tempeh, sliced into 1/4" pieces
2 tbsp coconut aminos
1 tsp sriracha
1/4 tsp salt
Black pepper
Pitaya Flour Tortillas:
3 cup all-purpose flour
1 tbsp Suncore Foods® Pink Pitaya Powder
1/2 tsp salt
3/4 c hot water
6 tbsp avocado oil
Roasted Veggies:
8 large mushrooms, cut into wedges
1 large bell pepper, large diced
1 med onion, large diced
1-2 tbsp olive oil
1/4 tsp salt
1/4 tsp granulated garlic
1/4 tsp ground coriander
Black pepper
4 small zucchini, large diced
2 yellow squash, large diced
Avocado oil spray
1/4 tsp granulated garlic
Salt, to taste
Black Pepper, to taste
Cilantro Hemp Sauce:
1/2 cup packed cilantro with stems
1/4 cup Suncore Foods® Hemp Seeds
1/4 cup water
2 tbsp olive oil
1 tbsp white balsamic vinegar
1/4 tsp salt
Directions
1. Sweet and Spicy Tempeh – Marinade for at least 1 hour or overnight is best. Preheat oven to 325 F. Place tempeh pieces onto avocado oil sprayed parchment paper covered sheet pan. Spray tempeh with more oil. Bake for 25 mins.
2. Pink Pitaya Tortillas – Sift dry ingredients into a large bowl. Add liquids. Mix until a dough forms and knead for 5 mins. You can also make this dough in a stand mixer. Cover and rest for 1 hour. Divide dough into 18 equal balls. Roll each ball thin and cook in a hot dry pan for about 30 secs. Flip and cook for another 30 secs. Repeat. Yield: 18 tortillas.
3. Roasted Vegetables – Toss veggies with oil and seasonings. Roast at 350 F 30 mins.
4. Broiled Vegetables – Spray veggies with avocado oil and add seasonings. Broil on high at 500F for 15 min until golden brown. Combine all roasted veggies.
5. Cilantro Hemp Sauce – Blend ingredients until smooth. Drizzle over tacos. Yield: 7oz
---