Rainbow Steamed Dumplings
How cute are these Vegan Rainbow Steamed Dumplings? They're as colorful to eat as they are a sight to see! Mixing in our Suncore Foods® Aqua Blue Spirulina, Cosmos Red Cabbage, Emerald Pandan Leaf, Red Beet, Ruby Red Radish, and Yellow Goldenberry Powders to achieve these stunning rainbow colors! Each dumpling is generously packed with veggie filling, that will keep you coming back for more!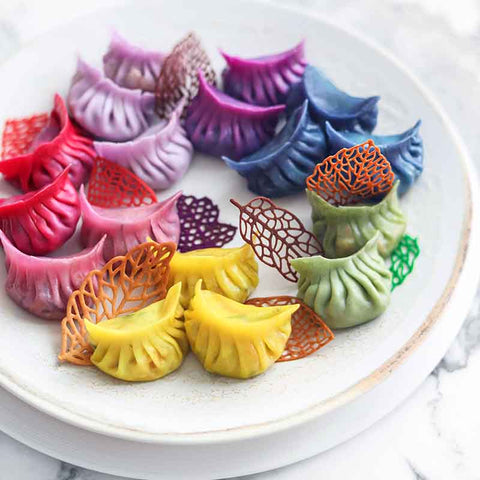 Directions
1. Filling — Bring 2 cup water to boil, add enoki mushrooms and cook for 2 minutes. Sprinkle 2 pinches of salt onto the cabbage and mix well with your hands. Allow this to sit for minutes. Squeeze out excess water. Add sesame oil into a pan and heat over medium heat until hot. Add the garlic and ginger. Stir a few times to release the fragrance. Add the carrot, black fungus, stir and cook for 1 minute. Add the cabbage, Enoki mushrooms Cook and stir for another 1 minute. Add in salt, pepper and dissolved cornstarch, stir until all the liquid has evaporated. Transfer everything to a big plate to cool.

2. Wrappers — In a large bowl combine wheat starch, potato starch and Suncore Foods® Powders. Add hot boiling water to the mixing bowl, quickly mix the mixture with a pair of chopsticks. When the dough is not too hot to handle, knead the dough for a couple of minutes until it turns into smooth dough ball. Add more potato starch or water if needed. Divide dough into pieces, about 10g. Take one piece of dough and press it to a round disc. Rotate the wrapper when moving your rolling pin. Repeat the process, rotate the wrapper-roll and rotate the wrapper-roll. Place the wrapper over a non-stick surface and cover it with a cling wrap to keep it moist as you work on the rest of dough.

3. Assemble — Place a spoonful of filling in the middle of a wrapper. Wet the edge with water. Fix the starting point with the thumb of right hand and begin to fold the edge. Repeat the steps to seal the dumpling completely. Place dumplings in the steamer and steam over a medium heat for 5-6 minutes. Serve warm. Enjoy.
---