Vanilla Quinoa Chia Mug Cake
This adorable Vanilla Quinoa Chia Mug Cake will bake you crazy! It's gluten-free, packed with goodnesses and is sure to satisfy your sweet tooth cravings!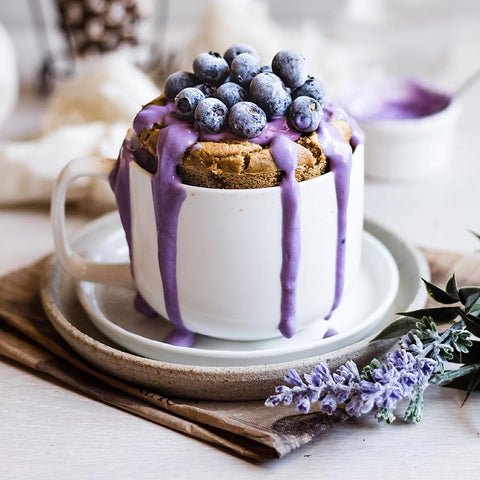 Ingredients
Mug Cake (for 2 Mugs/Ramekins)
1 cup Suncore Foods® Snow Quinoa Flakes, ground into flour 
1 packet protein powder of choice
1 tbsp Suncore Foods® Black Chia Seeds + 2 tbsp water (let set for 5 minutes)
2 tbsp coconut sugar
½ tsp baking powder
¼ tsp baking soda
¼ cup applesauce
2 tbsp nut butter
½ cup plant-based milk
1 tsp apple cider vinegar
Directions
1. In a bowl, combine the chia egg (Suncore Foods® Black Chia Seeds + water), applesauce, milk, nut butter, and vinegar. Separately whisk together the remaining (dry) ingredients, then pour into the wet mixture. Mix until incorporated.
2. Grease 2 microwave-safe mugs and distribute the batter evenly between them. Microwave each mug for 90 seconds; if needed, continue microwaving at 30 second intervals until cooked through. Alternatively, bake in oven-safe ramekins for 20 minutes at 350°C. Let cool before serving.
---