Tropical Pink Pitaya Chia Seeds Pudding Topped with Toasted Coconut Chips
When the breakfast options are simply good, delicious with gorgeous, rich pink color then that's a win! This pudding is all that and then some. Simply irresistible to your eyes as well as your senses, it will quickly become a staple in your kitchen. Incorporated our Suncore Foods® Pink Pitaya Powder for this delightful pink and mixed with our Suncore Foods® White Chia Seeds and top it all off, sprinkled with your favorite tropical fruit and coconut chips o complete this tasty treat perfect to have for breakfast or dessert or a mid-afternoon snack!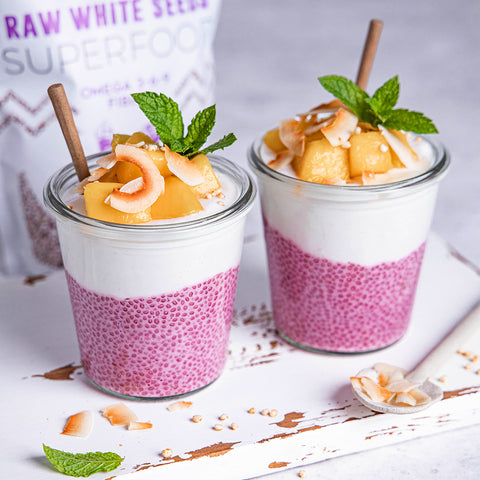 Directions
1. Combine the Suncore Foods® Pink Pitaya Powder with 2 tbsp of the milk and set aside.
2. In a medium bowl, combine Suncore Foods® White Chia Seeds and plant milk and whisk to combine. Add the pink milk and stir to combine. Set aside for 20 minutes, whisking occasionally.
3. Add sweetener of choice if you like.
4. Divide pudding and toppings between two jars.
5. Enjoy cold and feel the summer vibes!
---