Purple Sweet Potato Red Bean Iced Popsicles
We've found love in these scrumptious beauties! Hot, long summer days call for amazing treat just like these Popsicles made with velvety coconut cream & red beans. Lose yourself in the incredibly delicious combination in every bite! Always make it fun and colorful with our Suncore Foods® Powders (Purple Sweet Potato & Lilac Taro Yam) to add an extra delicious dimension and a pop of color among the edible flowers! Enjoy.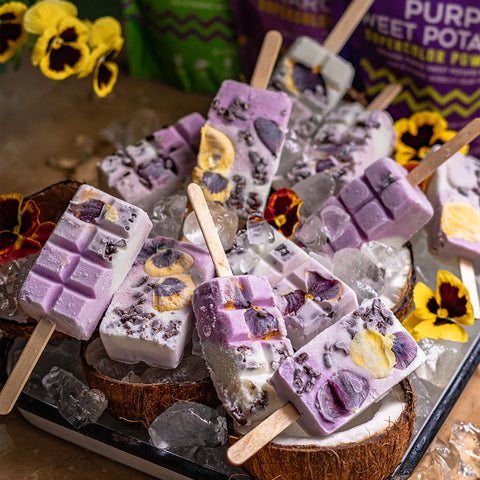 Ingredients
Things Needed:
Iced pop molds
Iced pop sticks
Optional: Edible flowers such as lilac or violets

Basic Batter:
1400 ml coconut cream
41/2 tbsp of cornstarch
50 mL water
90-100g of sweetened condensed milk
1/2 tbsp Suncore Foods® Emerald Pandan Leaf Powder
1/2 tsp salt
Dark Purple – Add 1 1/2 tsp Suncore Foods® Purple Sweet Potato Powder
Light Purple – Add 1 1/2 tsp Suncore Foods® Lilac Taro Yam Powder

Red Beans:
30g fresh red beans or replaced with canned adzuki beans
2L water
Using a pressure cooker, cook the washed and cleaned mini red beans for 25-30 minutes.
Wash and drain, and let it cool
Directions
1. Making the Iced Pop Batter — Make a cornstarch slurry with water, mix well and set aside. In a medium pot, heat the coconut cream to a gentle simmer with condensed milk, salt, and Suncore Foods® Emerald Pandan Leaf Powder, and add the cornstarch slurry. Cook until thickened. Divide the batter into three equal portions and pour them into heat-proof containers Set aside the white batter, then add the Suncore Foods® Powder. Mix well the batter, and cover the batter surface with plastic wrap to prevent it from forming skin. Refrigerate for a few hours until the batter is thickened ( minimum 4 hours), can be made a day ahead.
2. When the batter is ready to mold, fold the red beans into the white batter, and reserve some for sprinkling later.
3. In a baking sheet, place the molds and add the batter into the mold. Have fun with the design, and sprinkle more red beans to garnish the iced pop.
4. Tap the baking sheets to release trapped air and level the batter, then freeze them for a few hours.
5. Release the ice pops from the molds and they are ready to be served. Enjoy!
---