Rainbow Dumplings
Eat the rainbow – one color at a time with our Rainbow Dumplings! Visually appetizing and pleasant on the palate, these colorful dumplings are colored with Suncore Foods® Powders to achieve these stunning rainbow colors and they make a make a perfect festive dish that will keep you coming back for more! They look fancy but are super easy to make once you have a few basics down, enjoy!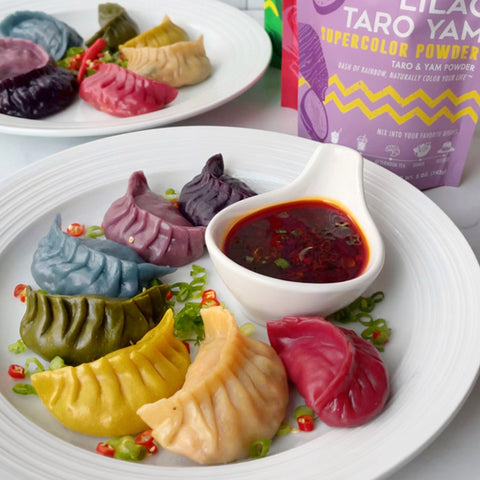 Directions
1. Filling – Mixed all the ingredients together and allow this to sit for minutes before assembling.
2. Wrappers – In a medium bowl combine all the ingredients with each Suncore Foods® Powder. Knead by hand once the flour gets shaggy. Make sure no more flour is left. Cover & rest for 10 minutes. Knead a few more minutes. Cover & rest for another 30 minutes then it should be silky smooth. Divide dough into pieces, about 10g. Take one piece of dough and press it to a round disc. Rotate the wrapper when moving your rolling pin. Repeat the process, rotate the wrapper-roll and rotate the wrapper-roll. Place the wrapper over a non-stick surface and cover it with a cling wrap to keep it moist as you work on the rest of dough.
3. Assemble – Place a spoonful of filling in the middle of a wrapper. Wet the edge with water. Fix the starting point with the thumb of right hand and begin to fold the edge. Repeat the steps to seal the dumpling completely. Place dumplings in the steamer and steam over a medium heat for 8 minutes. Serve warm. Enjoy!
---