Rainbow Coconut Bliss Balls
Snowball fight in September anyone? We whipped up these Rainbow Coconut Bliss Balls to brighten up our day because everything is better with a dash of color right?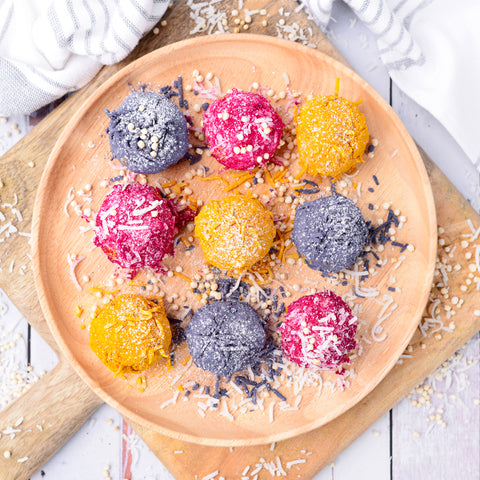 Ingredients
1 cup pitted dates
1 cup almonds 
1 ¼ cup coconut flour
Melted coconut oil
2 tablespoons (30 mL) roasted almond butter or raw cashew butter
Shredded coconut flakes to coat, optional
Dashes of Suncore Foods® Powders: Pink Pitaya, Yellow Goldenberry, and Indigo Blueberry
2 scoops protein powder of choice
Directions
1. Add the almonds, coconut flour, and protein powder to a food processor and process into a coarse crumb. Be sure not to over process the nuts into butter.
2. To the nut mixture, add the pitted dates. Process again until the dates are finely chopped.
3. Next, add the roasted almond butter (or raw cashew butter, if using), salt (optional), melted coconut oil, and water (starting with a couple teaspoons) to the processor bowl and process again until the mixture comes together into a dough. You should be able to easily roll the dough into balls without them feeling dry or crumbly. If the dough is too dry, add more water one teaspoon at a time and continue processing until the mixture moistens to desired consistency.
4. Roll the dough into 11 to 12 golf ball-sized balls. If using, roll each ball in your garnish of choice: shredded coconut, hemp hearts, ground shelled pistachios (or other nuts), cocoa powder or with our Suncore Foods® Powders. (If the garnishes aren't sticking, you can lightly wet the balls with water before rolling.)
5. Chill the balls in the freezer for about an hour to firm up, or feel free to eat them at room temperature if you can't wait that long! Leftover balls will keep in an airtight container in the freezer for a few weeks. You can also store them in the fridge in an airtight container for several days if you prefer.
---