Rainbow Apple Galettes
All your favorite colors on one beautiful dessert! These Rainbow Apple Galettes look like an artist's palette and is sure to paint a delicious picture in your mouth! Discover the endless possibilities with our Suncore Foods® Powders & more!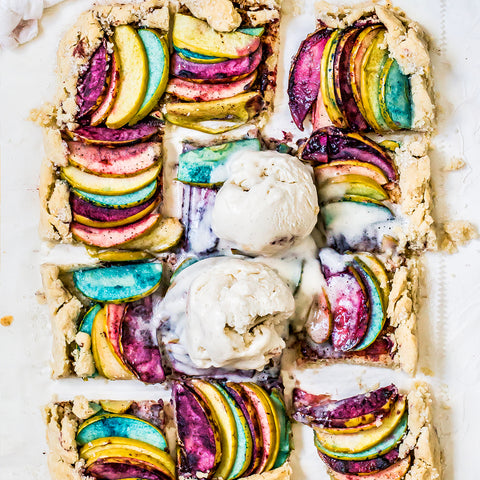 Directions
1. First, wash and slice your apples (no need to peel unless you'd like to). Place your apple slices in 4 separate bowls, 1 apple per bowl.
2. Preheat your oven to 425 degrees.
3. Add 1 teaspoon of lemon juice, 1 teaspoon of sugar sugar and 1/2 teaspoon of one of the supercolor powders to each bowl, stirl to combine and coat the apples well so they can absorb the color. You can let these sit while you make your crust.
4. Make your crust by combining all crust ingredients in a large bowl.
5. On a parchment-lined baking sheet, roll out your dough into a large rectangle.
6. Arrange your apple slices however you'd like, in this case I created a rainbow pattern by alternating colored slices, leaving about an inch border around the edges.
7. With a knife, or other pastry/frosting knife, gently fold your crust edges over the apples **NOTE: gluten-free pie crust/dough is not "bendable" so if it crumbles and breaks just press it back together with your fingers.
8. Brush the crust with oat/almond milk using a pastry brush and then sprinkle with sparking sugar (optional).
9. Bake for 20-25 minutes until the apples seem soft and cooked.
10. Top with dairy-free vanilla ice cream!
---