Spicy Purple Sweet Potato Sushi
What happens when you take amazing and roll them up into one bundle? Viola, you get these yummy Spicy Purple Sweet Potato Sushi!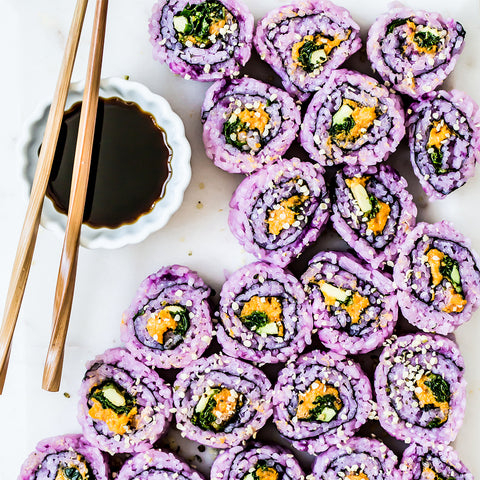 Ingredients
2 medium sweet potatoes, peeled and diced
1-2 tbsp olive oil
3 tbsp vegan mayo
2 tsp chili sauce (sriracha or korean)
1 bunch (9 stalks) kale
1.5 tbsp liquid aminos
1.5 tbsp sesame oil
1 package nori sheets
4-6 servings sushi rice (calrose works well too), according to package directions
2 tbsp rice vinegar
2 tbsp Suncore Foods® Purple Sweet Potato Powder
1 tbsp sugar (opt.)
Sprinkle of Suncore Foods® Hemp Seeds
Directions
1. Preheat your oven to 475 degrees.
2. Peel and dice your sweet potato, then place on a baking sheet, drizzle with olive oil and roast for about 20 minutes.
3. Make the rice according to package directions. I make 6 servings worth of rice. First add the water, then add the Suncore Foods® Purple Sweet Potato Powder, rice vinegar, and sugar (if using) and then stir in the rice. **NOTE: make sure the purple sweet potato powder is fully dissolved before adding rice to avoid clumping ** NOTE: We have found warm, sticky rice works the best for rolling. Place the rice in the freezer to cool down if it is still too hot to touch. We also have a bowl of water to keep our fingers wet while rolling to make it easier (since the rice is so sticky).
4. While your rice is cooking, wash and dice/tear your kale leaves from the stems and place in a large bowl. Add the sesame oil and liquid aminos, then massage the leaves of the kale until soft (about 3-5 minutes). Set aside
Remove your sweet potatoes from the oven and place in a large bowl.
5. Smash slightly with a fork until you have just small chunks of potato left.
6. Add in the vegan mayo and chili sauce, stir to combine.
7. Slice your avocado into thin strips.
8. Roll your sushi following this video: https://www.youtube.com/watch?v=DOPTUkux1js **NOTE: Don't overstuff your rolls or they will be very hard to roll.
9. Slice your sushi into 1-inch pieces, making sure you use a sharp knife (as seen in the video).
10. Garnish with Suncore Foods® Hemp Seeds and serve with liquid aminos/tamari dipping sauce and more chili sauce if desired.
---