Blue Butterfly Pea Chia Pudding
The color of these magnificent Blue Butterfly Pea Chia Puddings are spectacular, plus theses jars are an extra delicious jumpstart to the day! We L-O-V-E seeing our powder in action! Take your breakfast game to the next level with Suncore Foods® and bring on the bold blue color and add some creative coloring to your next dish!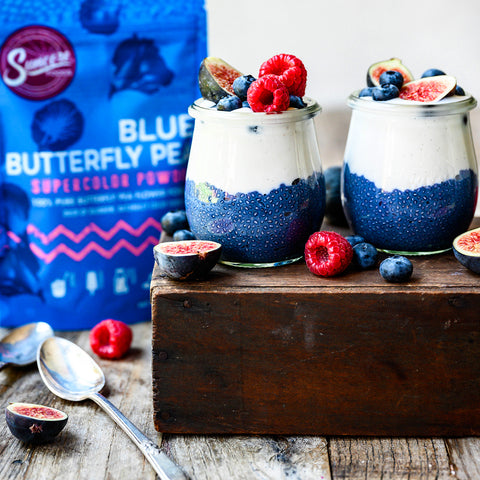 Directions
1. Whisk milk, Suncore Foods® White Chia Seeds, sweetener, vanilla, Suncore Foods® Blue Butterfly Pea Powder, and salt together until powder is dissolved.
2. Whisk again after 5 minutes. Let sit for a minimum of 30 minutes in refrigerator to thicken. Divide into thirds in bowls or jars.
3. Top with vanilla cashew yogurt, fresh berries, figs, and or coconut flakes.
---