Spiced Quinoa Chocolate Chip Cookies
New ways to turn our favorite treats deliciously good. These Spiced Quinoa Chocolate Chip Cookies are to live for. Not only are they super easy to make, but they're also packed with delicious Suncore Foods® Snow Quinoa Flakes! Chewy, crispy, chocolatey & pure heavenly! Is there anything better than a freshly baked chocolate chip cookie? The perfect anytime sweet treat! Who wants one?!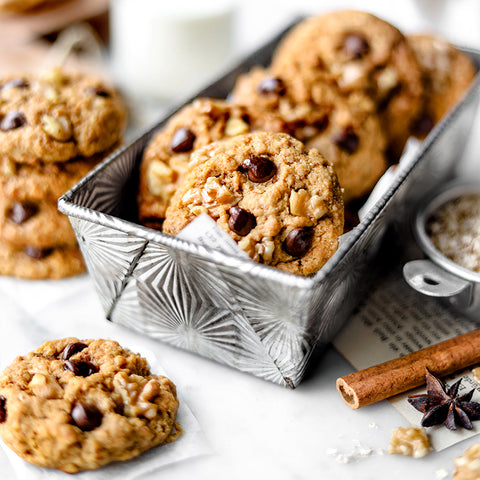 Ingredients
1 cup gluten-free all purpose flour or regular flour
3/4 cup Suncore Foods® Snow Quinoa Flakes
1/2 tsp baking soda
1/4 tsp ground cinnamon
1/4 tsp ground clove
1/4 tsp ground star anise
1/2 tsp salt
1/2 cup dairy free butter
1/3 cup coconut sugar
1/4 cup regular sugar
1/4 cup apple sauce
1 tsp vanilla bean extract
1/3 cup dark chocolate chips
1/3 cup chopped walnuts
Directions
1. Preheat oven to 170C. In a bowl, combine the flour, Suncore Foods® Snow Quinoa Flakes, baking soda, spices and salt. Set aside.
2. In the bowl of a stand mixer, beat the butter, apple sauce, coconut sugar, sugar and until combined. Add the vanilla. Gradually beat in the flour mixture. Stir in the chopped walnuts and chocolate chips. Refrigerate the batter for 5 minutes.
3. Scoop cookie dough using a mini ice cream, place onto a parchment lined baking tray. Should have 12-14 cookies from your batch. Bake for 10-12 minutes in the preheated oven. Allow cookies to cool for 2 minutes on the cookie sheet before removing to wire racks to cool completely. Enjoy!
---