Snipped Cinnamon Yam Twists
All you knead is love! These beautifully snipped and delicious cinnamon yam twists are a delightful choice for breakfast and brunch. Take a bite into these soft and warm twists and savor the buttery and sweet with a hint of cinnamon flavor that will make you jump for joy and go back for more. With Suncore Foods® Autumnal Baked Sweet Potato Yam & Red Beet Powders, these twists bask in a sun-kissed golden color. Who doesn't love a good cinnamon yam twist?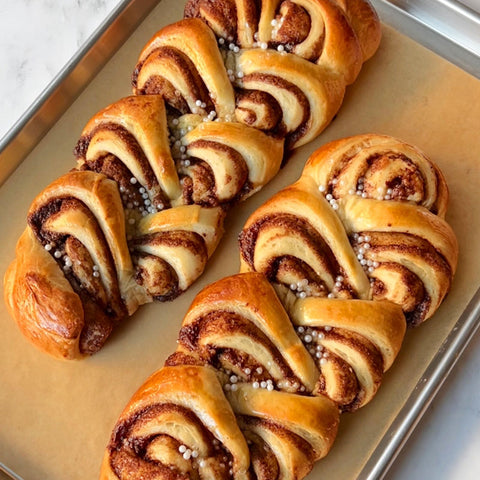 Directions
1. Bloom yeast by adding to milk and sugar, give it a quick stir. Let it sit for 10 mins.
2. In a large stand mixing bowl, combine flour, Suncore Foods® Autumnal Baked Sweet Potato Yam Powder, Suncore Foods® Red Beet Powder, and salt. Add in the yeast mixture and knead on medium low until no dry flour is visible. Slowly add in the butter, and knead on medium high for 8-10 mins until dough is smooth and releases clean from the bowl. Add a 1-2 tsp more flour if needed.
3. Roll dough into a ball, place back into mixing bowl, cover, and let it rise 1 1/2 hours or until it doubles in size. Punch dough to degas bubbles.
4. Combine all filling ingredients in a medium bowl and set aside.
5. Using a rolling pin, roll dough into a rectangle approx 25cm x 35 cm. Spread filling evenly in a thin layer. Roll dough tightly lengthwise and transfer to a baking sheet with parchment paper, seam side down. Using clean kitchen scissors, snip a diagonal cut into the dough, then gently push snipped portion to one side. Snip again 2 cm apart and lay down the next snipped swirl to the other side. Be sure not to cut all the way through the dough, keeping bottom side attached. Keep going until you reach the end of the roll. Cover dough and let proof for 30 mins.
6. Preheat oven to 390°F (200°C).
7. For sugar syrup, combine sugar and water in a small saucepan. Reduce on medium heat without stirring until it thickens into a syrup. Turn off heat and set aside.
8. Brush egg wash onto dough and sprinkle on pearl sugars (optional). Bake for 25-30 mins. Check halfway, and cover loosely with foil if dough is browning fast. Brush on sugar syrup. Enjoy it as a pull-apart bread or slice as a loaf!
---