Red Beet Very Berry Rolls
Have a go at these Red Beet Very Berry Rolls! Deliciously made with our Suncore Foods® Red Beet Powder and & Suncore Foods® Ruby Red Radish Powder adds this lovely red color to these magnificent rolls, making them so much more fun to devour. The recipe makes 12 so there is plenty to enjoy! These homemade rolls will have a special place in your hearts.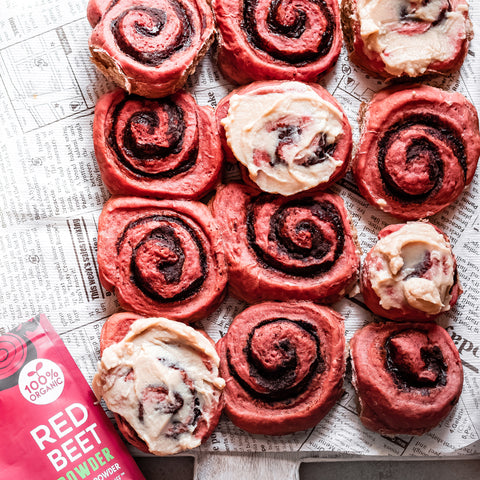 Directions
1. In a large bowl, mix together the above ingredients and knead until smooth -- about 15 minutes by hand. Add more flour as needed to prevent sticking. Form the dough into a ball and let rise in the bowl for 1 hour, covered, or until doubled in volume.
2. Meanwhile, make the filling (choose one, or both): Combine 1 tbsp cinnamon + 4 tbsp raw cane sugar + 2 tbsp vegan butter or melt 1/3 cup (80g) vegan chocolate chips.
3. Once the dough has risen, roll it into a 12'' x 15'' rectangle on a lightly floured surface. Spread on the filling mixture. Roll the up the dough lengthwise into a tight log, then cut into 12 equal pieces. Place in greased baking pan and let rest for 30 min; meanwhile, preheat your oven to 350F/180C. Bake for 25 min, or until the rolls are browned.
---