Red Beet Garnet Elderberry Chia Cranberry Sauce
Thanksgiving is right around the corner! Your perfect Thanksgiving spread is almost complete, all it's missing is this Red Beet Garnet Elderberry Cranberry Sauce just in time for you to add it to your list. Incorporated Suncore Foods®️ White Chia Seeds with a dash of Suncore Foods®️ Red Beet & Garnet Elderberry Powders to create this beautifully deep reddish color. Your family and friends will crowd the Thanksgiving table to get their hands on this sauce!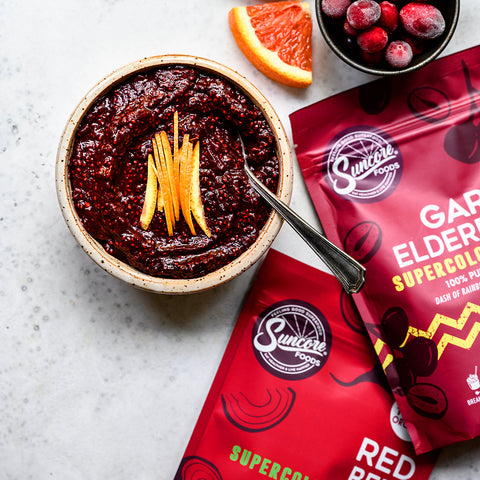 Directions
1. Add cranberries, orange juice, Suncore Foods® Red Beet Powder, Suncore Foods® Garnet Elderberry Powder, maple syrup, and cinnamon to a sauce pot over medium-low heat. Cook for 8-10 minutes, until cranberries have softened, stirring often.
2. Remove from heat and gently mash with a hand masher. Alternatively if you prefer a smooth sauce, you can blend it. Stir in Suncore Foods® White Chia Seeds and stir again after 5 minutes to prevent clumping. Let sit for 30-40 minutes to thicken. Store in refrigerator in an airtight container.
---