Rainbow Dinner Rolls
Fill your home with the smell of freshly baked rolls and satisfy your tastebuds with deliciousness! These fluffy, pillow-soft Rainbow Dinner Rolls are incredibly tasty! Always add a little pop of color to your dinner table and make it fun with Suncore Foods® Powders. Despite the flashiness, this wonderful dinner roll is easier to make than you might think! Magic happens in the kitchen!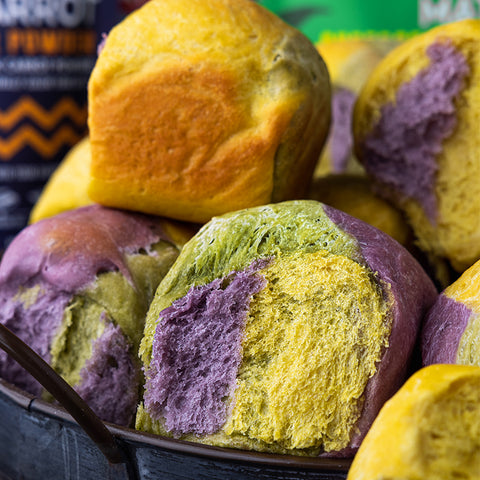 Directions
1. Prepare 1 Color Dough — In the bowl of a stand mixer, combine warm milk, sugar and yeast and set aside until the mixture is frothy. Mix in olive oil on low speed for 30 seconds. Mix in salt, flour and one Suncore Foods® Powder on low speed (or at the mixer recommended speed for dough) until the dough comes together and is no longer sticking to the walls of the bowl.
2. 1st Proof — Remove dough and form a dough ball. Place the dough in a clean bowl, cover and proof the dough for 60-90 minutes.
3. Prepare 2nd and 3rd Dough — Follow the same steps to prepare and proof the second and third Supercolor doughs.
4. Cut Dough — Lightly oil the inside of a baking dish and set aside. Punch the air out of each dough and lightly re-knead the doughs for a few seconds and form 3 dough logs, one of each color. Cut each dough log into 3-4 portions.
5. Roll Dough — The goal is to form dough ropes with each portion and combine 1 rope of each color to form a rainbow dough rope. Work with 1 portion at a time and roll each portion into a rope ~ 8-12". Place a green rope next to a purple rope and pinch the length together, attaching the two ropes. Place a yellow rope on top of the crease where the green rope meets the purple rope and gently press it down. Using your hands, roll the combined rainbow dough rope on your work surface or between your hands, ensuring the dough ropes are firmly attached, forming 1 large rainbow dough rope. If the doughs are too dry and not attaching, re-knead and re-roll the respective portions. Repeat the same process for the remaining dough ropes. Once finished, you should have 3-4 large rainbow dough ropes.
6. Shape Dough — Cut each rainbow dough rope into 3-4 portions (or as per preference) and roll each portion into rounds. If the different colored doughs start to disassemble, simply pinch them together and roll the dough into a round, dinner roll, shape. Place each round onto the prepared baking dish, leaving ¼ - ½ space between each round.
7. 2nd Proof — Cover the dough with a kitchen towel and set aside for 1 hour.
8. Bake — Preheat oven to 350º F. Brush the dough with melted butter and bake for 22-30 minutes. Baking time will vary depending on the size of the dinner rolls and actual oven temperature. Once ready, the top of the buns should be crisp and golden-brown on the bottom. The buns should sound hollow when you tap on them (tap each bun to check).
9. Allow the dinner rolls to cool in the baking dish for 15 minutes, then transfer to a wired rack to cool to room temperature.
---