Pink Pitaya Bounty Bars
Chocolate covered and colorfully fun, these dreamy pretty in pink Pink Pitaya Bounty Bars are here just in time for the upcoming Halloween celebrations! They're an absolute must for your Happy Haunting Halloween Party!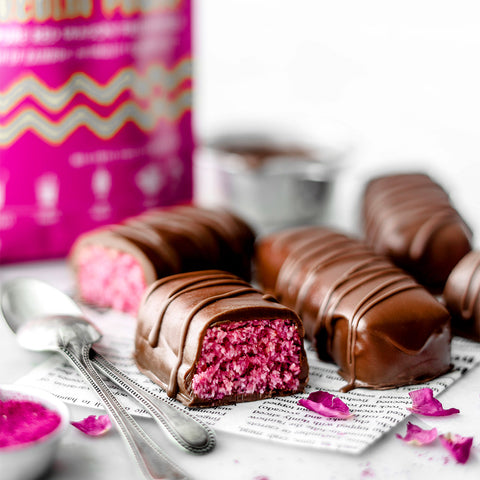 Ingredients
1 cup desiccated Coconut
1/4 cup almond meal
2 tbsp maple syrup
2 tbsp cashew butter
2 ½ tbsp coconut oil
⅛ tsp salt
½ tsp vanilla bean extract
2 tsp Suncore Foods® Pink Pitaya Powder dissolved in 2 tsp water
200g dairy free chocolate, no sugar added
Directions
1. In a mixing bowl, combine desiccated coconut, almond meal, maple syrup, creamy cashew buttercream coconut oil, sea, vanilla and Suncore Foods® Pink Pitaya Powder. Mix well until mixture that can be formed into bars. If your mixture doesn't come together, add a tsp of coconut oil.
2. Shape mixture into bars and place on a parchment lined plate or baking tray. Freeze bars for at least 4 hours until set.
3. Melt chocolate, allow to cool.
4. Take the bar and dip into the melted chocolate using a fork, coat bar in a generous coating of chocolate. Put in the refrigerator until set about 5-10 minutes and serve. Enjoy!
---