Pink Christmas Tree Meringue Cookies
Wishing the most joyous Christmas to everybody and loved ones! May your day be merry and bright! On our agenda today is to be surrounded by love and snuggle up by the tree with a mug of hot cocoa--or cute little Christmas Tree Meringue Cookies dressed up in pink! With darling shades of pink made from Suncore Foods® Cerise Prickly Pear Powder sifted with Suncore Foods® Ruby Red Radish & Red Beet Powders, these crisp meringues melt the instant they hit your tongue. Because some people are worth melting for. Happy Holidays to one and all!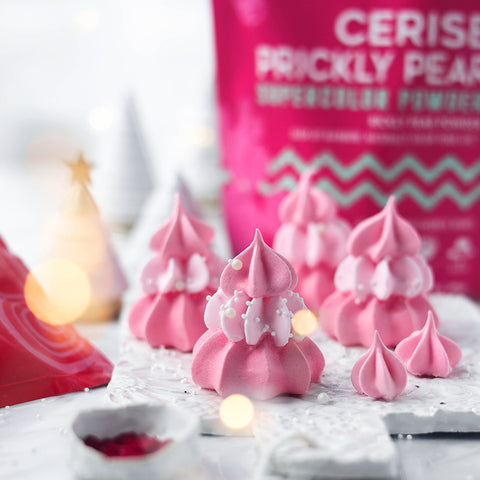 Directions
1. Preheat the oven to 110c.
2. Line a baking tray with greaseproof paper.
3. 
Clean bowl and whisker using kitchen towel with a little bit of vinegar.
4. Place the aquafaba and cream of tartar into the bowl of an electric mixer.
 Whisk for 5 mins until it's double in size and foamy.
5. Slowly add powdered sugar, one tablespoon at the time, whisking until the mixture forms stiff, glossy peaks (15 mins).
6. Add dissolved Suncore Foods® Cerise Prickly Pear Powder *sifted Suncore Foods® Ruby Red Radish Powder & Suncore Foods® Red Beet Powder for the color and whisk to combine.
7. Transfer the meringue mixture into an icing bag with a star tip.
8. Bake for 2 hours (meringue might take a little longer to dry if they are bigger).
9. Take them out of the oven, let them cool.
10. Store in a dry place so they maintain their shape.
---