Christmas Tree Bread
'Tis the season to be jolly! This Christmas Tree Bread will make everyone sing Fa la la la la, la la la. This festive puffy bread with yummy Azuki bean (or sweet red bean) filling will bring you a warm and fuzzy feeling inside. Starting with basic bread dough then with a magic touch of Suncore Foods® Midori Jade Matcha Powder and Suncore Foods® Yellow Goldenberry Powder, and voila you can create this beautiful and delicious Christmas tree for friends and family!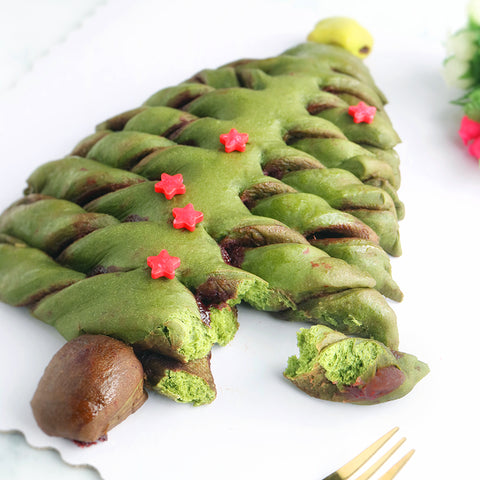 Directions
1. In a stand mixer, add all bread ingredients except for salt and oil/butter. Using a dough hook, mix on medium-low speed for 10 min, then add in salt and oil/butter. Knead for another 6-8 min till the dough is smooth. Check that the dough can stretch into a thin membrane without breaking (window pane test).
2. Pinch out two 15g dough for the yellow and brown dough and knead in Suncore Foods® Yellow Goldenberry Powder and cocoa powder till combined (optional). To the rest of the dough, knead in Suncore Foods® Midori Jade Matcha Powder till even and well-combined. Further divide each dough into 2 and shape into balls (you will need two pieces of dough to sandwich the filling). Cover and let them proof for 1 hr or until doubled in size.
3. Punch down the green matcha dough and roll out the dough into a large triangular Christmas tree shape on a piece of baking sheet. Do the same for the other matcha dough. Spread azuki red bean paste over one large triangle and cover with the second triangle. Use a knife to trim the edges.
4. Flatten the yellow and brown dough and sandwich azuki bean paste. Place onto the top and bottom of the large green triangle (you can also use green dough to do this).
5. Cut 1-inch wide strips on each side of the triangular tree shape, leaving around a 1-inch wide column in the middle of the tree uncut. Starting at the bottom, take a strip of dough and twist, forming a spiral. Remember to pinch down the tip of the strip tightly. Repeat with all of the strips of dough.
6. Use a star cutter to cut a star shape from the yellow dough and a knife to trim the sides of the brown dough to form a tree trunk.
7. Allow the Christmas tree to proof till doubled in size (around 30-45 mins in a warm environment). Preheat oven to 180oC. Reduce the temperature of the oven to 140oC just before placing the tree bread into the oven. Bake for 20 min or until the buns are firm and sound hollow when tapped. Enjoy! 
---