Pecan Oatmeal Cacao Nibs Quinoa Cream Pies
Are you craving cookies right now? How about a stack of delicious chewy cookies full of lots of chocolate and nutty goodness? These Pecan Oatmeal Cacao Nibs Cookies Sandwich or Cream Pies are seriously addicting and packed with yummy goodness and oh so TASTY! Incorporated our Suncore Foods® Cacao Nibs with Suncore Foods® Snow Quinoa Flakes and the result will be treasured by chocolate lovers!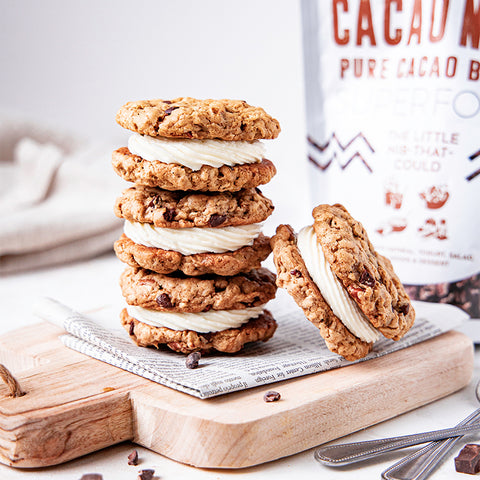 Ingredients
Baked 22 Cookies/11 Cream Pies

Dry Ingredients:
125g (1 cup) all purpose flour
125g (1 and 1/4 cups) old-fashioned oats
1 cup Suncore Foods® Snow Quinoa Flakes
1/2 tsp baking powder
1/2 tsp baking soda
1/2 tsp ground cinnamon
1/4 tsp ground nutmeg
1/8 tsp ground cloves
1/2 tsp salt
50g (1/2 cup) chopped pecans
15g (2 tbsp) Suncore Foods® Cacao Nibs
40g (1/4 cup) chocolate chips

Wet Ingredients:
115g (1/2 cup) vegan butter, room temp
60g (1/4 cup) pecan butter
60g (1/3 cup) unrefined brown sugar
100g (1/2 cup) light brown sugar
1 tsp vanilla bean paste

Cream Cheese Frosting:
225g (8 oz) cream cheese of choice, room temperature
3 tbsp honey or agave
Directions
1. Preheat the oven to 175C / 350F and line a cookie sheet with parchment paper.
2. In a medium bowl, whisk together the flour, baking soda, baking powder, spices, salt, chopped pecans, Suncore Foods® Snow Quinoa Flakes, Suncore Foods® Cacao Nibs, chocolate chips and oats until well combined. Set aside.
3. In the bowl of a stand mixer fitted with paddle attachment, beat vegan butter and sugars until light and fluffy. Add pecan butter and vanilla and beat until well combined. Turn the speed down to low and fold in the oatmeal mixture, mixing until it is just incorporated.
4. Refrigerate dough for 30 minutes.
5. Use a tablespoon to scoop out the dough and place it on the prepared cookie sheet, leaving at least 5cm of space between cookies so they can spread when they bake.
6. Bake for 8-10 minutes, or until the cookies just begin to turn lightly golden brown around the edges. Remove and allow the cookies to cool on a wire rack.
7. To make frosting: in a small bowl, mix cream cheese and sweetener until well combined. Using a piping bag, pipe some filling on the bottom side of one cookie and press a second cookie on top.
8. Serve immediately or keep in refrigerator for 1 day!
---