Passion Fruit Yogurt Loaf
This tropical Passion Fruit Yogurt Loaf is just the thing to turn an ordinary #Monday breakfast into something special and absolutely delicious! Bright citrus taste with the most scrumptious twist on classic favorite incorporating Suncore Foods® Marigold Passion Fruit Powder & Seeds in the loaf and glaze drizzled over the top. It's the perfect fancied up a bit anytime breakfast or treat you can enjoy it all week long.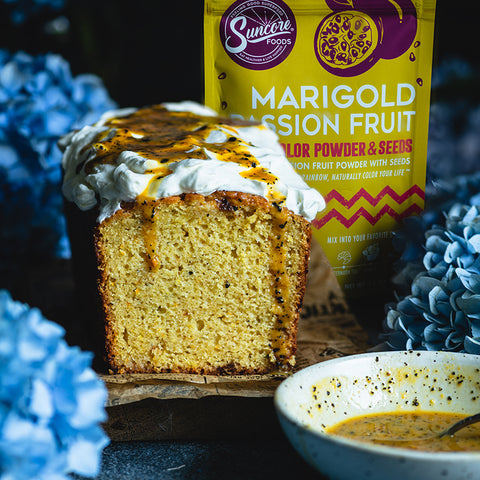 Directions
1. Set oven to 350 F and butter and flour a 9" x 5" baking tin. Whisk together the flour, baking powder, baking soda, and salt then set aside.
2. Whisk the butter until creamy. Add in yogurt, lemon juice, vanilla, Suncore Foods® Marigold Passion Fruit Powder & Seeds, and sugar and whisk until light and fluffy.
3. Add the eggs one at a time whisk once more. Add flour the mixture and mix until just combined. Scrape the bowl down and use the spatula to finish mixing the batter.
4. Transfer the batter to your prepared tin.
5. Bake the cake at 350F for 60 minutes or until a toothpick inserted to the center of the cake comes out clean. Transfer to a cooling track.
6. Then make the glaze. Add all ingredients in a small bowl and whisk to mix well. Set aside. Cream: Whisk the cream ingredients together until thick.
7. Once the cake is cool, spread the cream on top and add the glaze.
---