Matcha Rose Cheesecake Bars
Matcha and rose, two of the most elegant , walk into a dessert to make these dreamy Matcha Rose Cheesecake Bars! This flavor combo is a match-a made in heaven! Incorporated Suncore Foods® Midori Jade Matcha Powder for that rich flavor and beautiful color! We're craving these right now, what about you?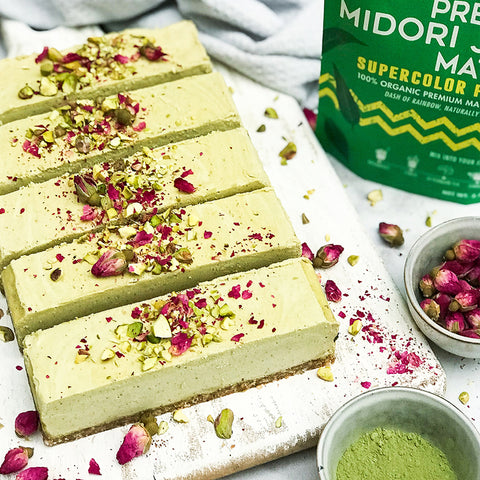 Directions
1. Line an 8×8 inch pan with parchment paper.
2. In a food processor, blend all the crust ingredients until it forms a dough and press the dough together with your fingertips. Place the dough down into your pan evenly and place the pan in the freezer while you prepare the matcha layer ingredients.
3. In a food mixer, blend all the matcha layer ingredients until it forms a fluffy whip cream texture.
4. Pour the mixture into your pan topped your favorite toppings.
5. Place the cheesecake into the freezer to firm up for 2-3 hours.
6. Cool at least for 4 hours before serving.
7. When ready to serve, remove from pan, cut into squares, and serve!
---