Lilac Taro Yam Mung Bean Cakes
Mung bean cake is a traditional and popular Chinese dessert and there are many varieties from taste, color to shape. These Lilac Taro Yam Mung Bean Cakes are absolutely delicious: fragrant, smooth, and melt-in-your mouth. Best of all, they only require 4 basic . Incorporated our Suncore Foods® Lilac Taro Yam Powder to give these a vibrant purple color. Oh, yes, and eating them is also very enjoyable, too!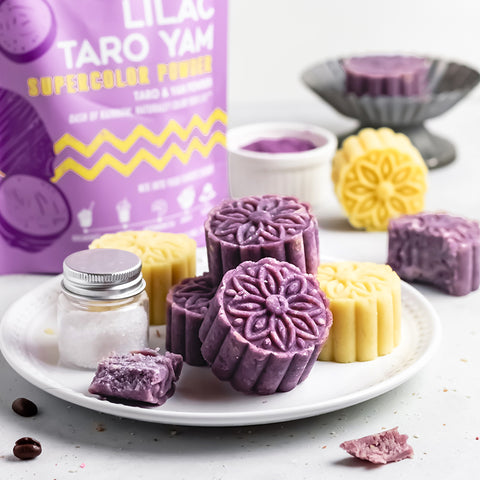 Ingredients
Yields 9-10 Cakes

200g split mung beans
600g water
50g pure cane sugar (use up to 80g for more sweetness)
50g neutral oil, such as grapeseed
10g Suncore Foods® Lilac Taro Yam Powder
Directions
1. The night before: thoroughly rinse the split mung beans, and soak them in water for 8+ hours or overnight.
2. Drain the mung beans and place them into a clean, heat-safe bowl. Place a steamer rack into a large pot and pour in the water. Place the bowl of mung beans onto the steamer rack, then cover the pot. Bring the water to a boil over high heat, then reduce the heat to medium and steam for 40 minutes. (Alternatively, use the 'Steam' option in an Instant Pot for 12 minutes.) The mung beans are done when you can easily mush them with your fingers.
3. Mash the mung beans into a smooth paste, then add the paste to a skillet along with sugar and oil. Using a spatula, stir and fry the mixture until the paste easily sticks together; about 5-10 minutes. Remove from heat, and add taro powder to 2/3 of the mixture for a purple color. Let cool.
4. Divide the mixture into 50g pieces. Place each piece into a mooncake mold and press into mooncakes. Enjoy!
---