Pink Pitaya Strawberry Yogurt Tart
Strawberry purée, coconut cream, and dairy-free yogurt in a crisp pastry crust, this flavor combo has got us saying ohh lala! This Pink Pitaya Strawberry Yogurt Tart is the perfect way to get your pink on. The tart-tally amazing summer lovin' flavors will dance on your tongue! Used Suncore Foods® Pink Pitaya Powder to give this tart that beautiful pop of pink. We will definitely take a slice, you don't have to ask us twice!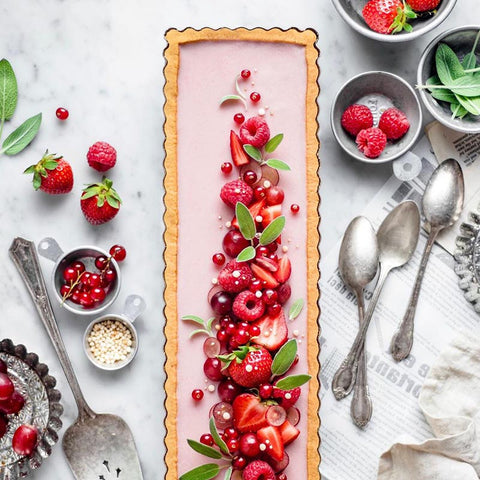 Ingredients
Crust:
1 1/4 cups GF oat flour
1/2 cup GF all purpose flour
2 tbsp coconut nectar
4 tbsp coconut oil
1/2 tsp vanilla bean extract
Pinch of salt

Pink Pitaya Strawberry Yogurt Filling:
1 cup fresh strawberries
1 cup dairy free yogurt, room temperature
3/4 cup full fat coconut milk
2 tbsp freshly squeezed lemon juice
1/4 cup pure maple syrup
2 tsp agar agar powder
1/2 tsp vanilla bean extract
2 tsp Suncore Foods® Pink Pitaya Powder
Directions
1. Preheat oven to 180 degrees celsius. Grease a rectangle tart tin (13.5" inch). Set aside. 
In a food processor, add crust ingredients and pulse to combined (if mixture doesn't come together, add a tablespoon coconut oil). You should get a moist mixture that can be easily moulded. Bake for 15 mins. Transfer to a wire rack and let it cool. 
2. Add strawberries in a blender. Blend into a puree. Add lemon juice, blend it again. Strain juice through a mesh sieve.
In a saucepan, bring coconut cream to a boil. Add Suncore Foods® Pink Pitaya Powder, agar-agar and stirring constantly until agar completely dissolve. Then lower the heat and add in strawberry mixture, maple syrup. Let simmer for 1 min. Turn off the heat and allow mixture to cool slightly. Whisk in yogurt and vanilla. Pour mixture into the tart. Chill in fridge for at least 4 hours to set.
---