Emerald Pandan Leaf Jelly Noodles Dessert
Dive into a bowl of yummy chewy, bouncy noodles that dance with each spoonful. And don't forget the creamy coconut milk that brings everything together in a sweet & refreshing harmony! These jelly noodles infused with the magical powers of Suncore Foods® Emerald Pandan Leaf Powder, will color your day this delightful green hue & vanilla taste. Whether you're looking to brighten up a party or simply want a fun & scrumptious treat to enjoy, it's here to satisfy your cravings. Try this recipe and let the noodle slurping begin!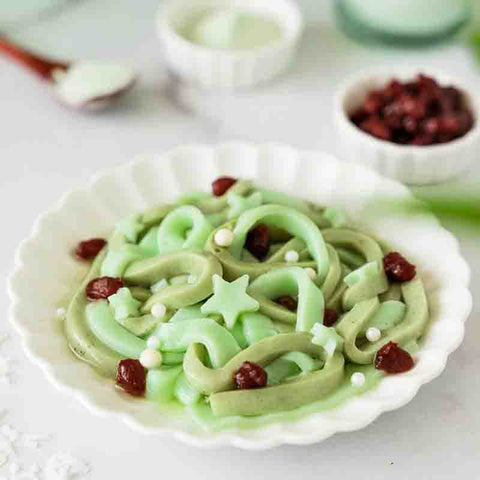 Directions
1. Dissolve Suncore Foods® Emerald Pandan Leaf Powder in hot water.
2. Bring to a simmer 300g milk, white jelly powder, and Suncore Foods® Emerald Pandan Leaf Powder. Pour into a flat tray and allow to cool and set completely in the fridge.
3. Meanwhile, cook the sago pearls by boiling in water for 8 minutes. Turn off the heat and cover and steam for another 10 minutes. Strain and place into the bottom of the serving dish.
4. Cut pandan jelly into noodles. Place the noodles on top of the sago pearls.
5. Stir together coconut milk, 40g regular milk, and sugar. Pour over the jelly noodles and enjoy!
---