Ebony Carrot Lilac Taro Yam Swirl Bread
It's Fri-yay!! This is how we like to roll into the weekend!  We are here to serve you the best bread ever. Super soft, velvety & airy light, who wants to join us and have a slice of this whimsical Ebony Carrot Lilac Taro Yam Swirl Bread?  We use Suncore Foods® Lilac Taro Yam, Purple Sweet Potato & Ebony Carrot Powders to give both its bright, vivid purple color and delicious flavor. This bread is pleasing to the eyes and makes your taste buds ask for more. It's nothing better than coming home to fresh baked goods and letting the smell of warm, buttery deliciousness fill your house. Serve the goodness of our bread to your family.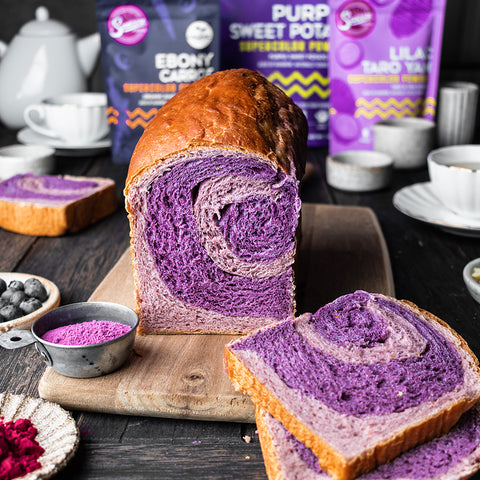 Directions
1. Prepare Dark Purple Dough — Place warm oat milk, sugar and yeast in the bowl of a stand mixer and set aside for 10-15 minutes, until the mixture is frothy.
2. Mix in olive oil on low speed for 30 seconds to a minute.
3. Mix in all remaining ingredients on low speed (or at the mixer recommended speed for dough) until the dough comes together and is no longer sticking to the walls of the bowl.
4. Remove dough and form a dough ball. Place the dough ball in a clean bowl, cover and set aside.
5. Prepare Light Purple Dough — Follow the same instructions and prepare the second dough.
6. From the time your cover the second dough, proof both doughs for 60-90 minutes, until they're double in size.
7. Deflate and Roll Doughs — Lightly oil the inside of the bread pan and set aside. Punch the air out of the light purple dough and using a rolling pin, roll the dough out into a long rectangle. Follow the same method for the dark purple dough ensuring both dough rectangles are approximately the same size.
8. Assemble Dough Log — Place the dark purple dough on the lighter dough and using your hands, gently stretch the dough out around the edges to ensure both doughs are the stacked evenly and have the same dimensions.
9. Starting from one end, roll the dough inwards forming swirls with every completed rotation. Place the dough in the bread pan with the crease side facing down. Cover with a kitchen towel and set aside for 1 hour.
10. When ready to bake, preheat oven to 350 deg. F. Brush the dough with oat milk and bake for 35-40 minutes. The top of the loaf should be golden-brown and should sound hollow when you tap on it.
11. Allow the loaf to cool in the bread pan for 15 minutes. Remove the loaf from the bread pan (the loaf should slide out when the bread pan is tilted) and allow it to cool to room temperature before slicing.
---