Cranberry Rose Petals Pink Pitaya Glazed Cookie Sticks
Live life in pink and enjoy this ultimate snack! Get that big ole' glass of milk and pair it perfectly with Cranberry Rose Petal Pink Pitaya Glazed Cookie. We bring some fun to your dessert table and color it this romantic pink with Suncore Foods® Pink Pitaya & Red Beet Powders. With a touch of our Suncore Foods® Rose Petals, we can elevate this cookie to a new height. Have fun and make today fun with this amazing treat!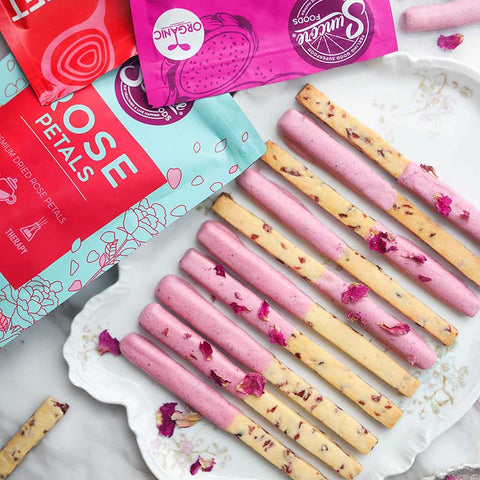 Directions
1. In a medium bowl, cream together butter and powdered sugar. Add in condensed milk and whisk until smooth. Add in flour and almond flour, continue mixing for 1 minute. Add the milk & vanilla and mix until dough forms. Fold in cranberry. Cover dough with plastic wrap and chill in the fridge for 30 minutes.

2. Roll out the chilled dough into rectangular, about 1cm thick. Place the rolled dough in the freezer for 20 minutes. Then cut out the strips, about 1cm. Lift the strips and place them on baking sheet.

3. Bake at 160 c preheat oven for 20 minutes or until edges are very lightly browned. Allow cookies to cool completely. Dip cookie into melted chocolate and refrigerate until chocolate is set.
---