Christmas Tree Meringue Pops
Only a month left until the most wonderful time of the year! Let's count down with this stunning and romantic Christmas Tree Meringue Pops! Isn't it such a sweet and delightful shade of lilac? Color it magically with Suncore Foods® Lilac Taro Yam & Purple Sweet Potato Powders, topped off with Suncore Foods® Forget Me Not Flower to elevate this treat and add an unforgettable floral aromatic. Take a bite and feel the deliciousness slowly melt in your mouth!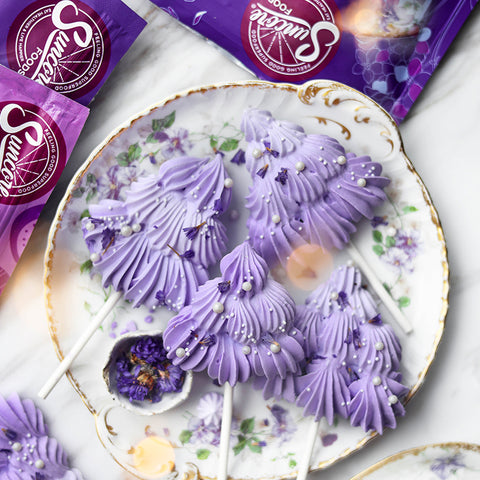 Directions
1. Preheat the oven to 110c. Line a baking tray with greaseproof paper. Clean bowl and whisker using a kitchen towel with a little bit of vinegar. Place the aquafaba and cream of tartar into the bowl of an electric mixer.

2. Whisk for 5 mins until it's double in size and foamy. Slowly add powdered
sugar, one tablespoon at the time. whisking until the mixture forms stiff,
glossy peaks (15 mins). Add dissolved Suncore Foods® Lilac Taro Yam Powder, Suncore Foods® Purple Sweet Potato Powder, and whisk to combine. Transfer the meringue mixture into an icing bag with a star tip. Pipe onto the baking paper, then place a cake pop stick before piping a tree shape on the pop stick and paper. Repeat until you use up all of the meringue.

3. Bake for 2 hrs. (Meringue might take a little longer to dry if they are bigger)
Take them out of the oven, let them cool. Store in a dry place so they
maintain their shape.
---