Blue Butterfly Mango Rose Sticky Rice
Putting a small twist on this authentic-tasting classic, popular meal! We're mango-ing crazy for a bite of this scrumptious dish! This Blue Butterfly Mango Rose Sticky Rice is popping with color, inside and out. Incorporated Suncore Foods® Butterfly Pea Flowers to infuse the rice a blue-tiful hue. Heavenly is the only perfect word to describe our love to this exotic dessert!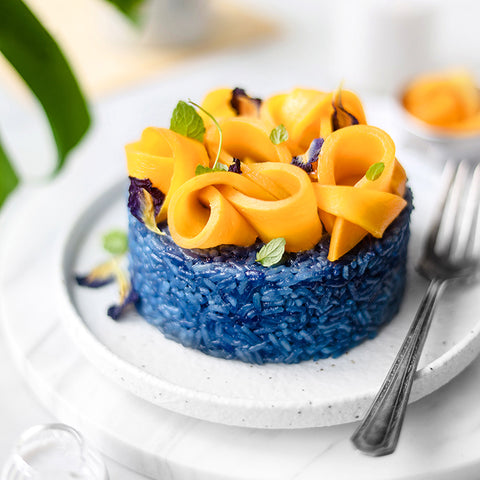 Ingredients
Blue Butterfly Pea Sticky Rice:
handful Suncore Foods®  Butterfly Pea Flowers
2 cups boiling water
2 cups glutinous rice, rinsed well
2 tsp coconut oil
1 cup coconut milk
1/4 cup maple syrup
1/2 tsp salt
To Serve:
2 large mangoes, sliced
1/2 cup coconut milk
Directions
1. Make an extract with the Suncore Foods® Butterfly Pea Flowers and boiling water. Place the flowers in a heat resistant bowl. Let it soak for 10 mins until the water turns dark blue. Drain well to extract all the liquid.
2. Soak rice in flower extract overnight. Drain rice. Add 2 tsp of coconut oil and steam rice for 30 to 40 minutes, or until tender.
3. While rice is cooking, in a small saucepan bring coconut milk to a boil with maple syrup and salt, remove from heat.
4. Transfer cooked rice to a bowl and stir in warm coconut milk mixture. Cover and let soak until coconut milk mixture is absorbed. About 20-30 minutes.
5. To serve, mold 1/2 cup of sticky rice on dessert plates ( 1 used a mini cake mold, about 1 1/2 cups). Top with mango slices and drizzle with coconut milk. Enjoy.
---