Autumnal Baked Yam Cupcakes with Purple Sweet Potato Buttercream
These moist and fluffy Purple Sweet Potato Buttercream Baked Yam Cupcakes will have you squeak your hearts out with happiness. Spook-tacular incorporating Suncore Foods® Purple Sweet Potato Powder to achieve the pretty purple color and whisk Suncore Foods® Autumnal Baked Yam Sweet Potato Powder in the cupcakes elevating the taste, these cupcakes are absolutely delightful and a hit with everyone. The best part of this recipe is that it's easy to follow, and you can make the cupcakes in any color you would like! Happy baking.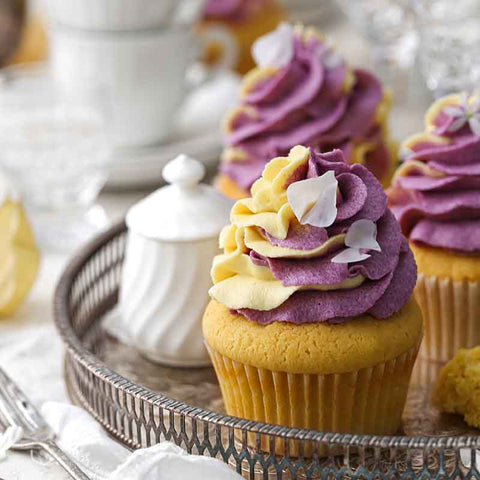 Directions
1. Cupcakes — Preheat the oven to 170 degrees Celsius. Place butter & sugar in a stand mixer bowl with a paddle attachment. Beat until fully incorporated and the mixture turns to fully and pale white. Add in one egg; mix until the mixture just comes together. Repeat for the other 2 eggs. Add in sifted flour; Suncore Foods® Autumnal Baked Sweet Potato Yam Powder and milk. Mix on medium speed until fully incorporated. Divide batter equally into cupcake liners (fill each of them almost all the way full). Give the muffin tin a gentle tap on the counter to release air bubbles. Bake them in a 170 degrees Celsius oven for around 18 minutes or until a toothpick is inserted and it comes out clean. Remove the cupcakes from the oven; let them rest on a wire rack for 15-30 minutes or until they've cooled down.
2. Buttercream — Place softened butter in a large bowl, and sift in powdered sugar. Using a hand-held mixer; mix until well incorporated. Next, add in vanilla & milk to adjust the consistency. Mix on medium speed until everything is well combined. *If the cream is too dry add 1/2 tbsp at a time to adjust the consistency. Place half of the buttercream in a bowl. Set aside. Add Suncore Foods® Purple Sweet Potato Powder to the other half of the buttercream. Mix until well incorporated. Once ready; transfer the buttercream into a piping bag filled with star tips (purple on the left side; yellow on the right side).
3. Assemble — Pipe & decorate the cupcakes. Enjoy!
---