Pink Pitaya Red Beet Challah
Here's a bread that is as much as pleasure to look at as it is to eat. Check out the pink & red braiding  and the way it glows! Go ahead and slice yourself a piece of this heavenly pillowy soft & sweet Pink Pitaya & Red Beet Challah bread made with Suncore Foods® Pink Pitaya & Red Beet Powders into the dough to create those yummy tasting braiding. Completely striking and elevated the traditional classic challah to the next level. This challah isn't just for the holidays – it appeals to everyone, any time! Let's face it... Who can resist this?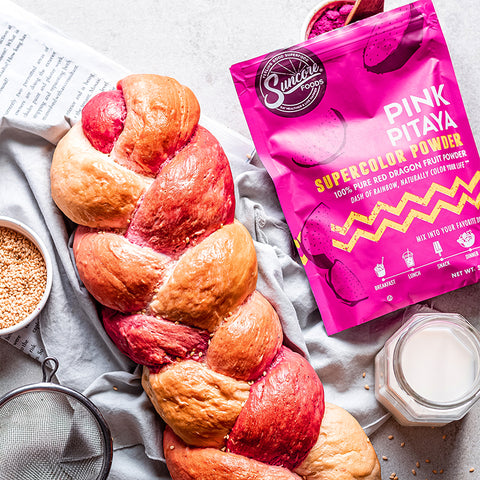 Directions
1. Combine the flour, water, yeast, sugar, oil, and salt in a bowl. Using your hands or a mixer, knead together the ingredients until into a smooth and elastic dough -- about 15 min. Add more flour as needed to prevent sticking. Place kneaded dough into the bowl and let rise, covered, for 1-2 hours.
2. Once doubled in volume, punch the dough down and divide it into 3 pieces. For color, add 1-2 tsp Suncore Foods® Pink Pitaya Powder to one piece + 2-3 tsp Suncore Foods® Red Beet Powder to another piece. Knead until the color is evenly distributed. Roll each piece into a long long, then braid the three strands together. Pinch both ends together and place the braid onto a greased baking sheet. Cover gently and let rise for 30-60 min, until doubled in size.
3. Preheat oven to 350F. For the glaze, combine 1 tsp maple syrup + 2 tsp plant-based and brush it over the loaf. When ready, bake the challah for ~25 minutes, until golden on top. Let cool on a wire rack and enjoy!
---