Chocolate Hazelnut Cacao Nibs Quinoa Banana Muffins
Looking for something new to enjoy for breakfast? Give these Chocolate Hazelnut Cacao Nibs Quinoa Banana Muffins a try!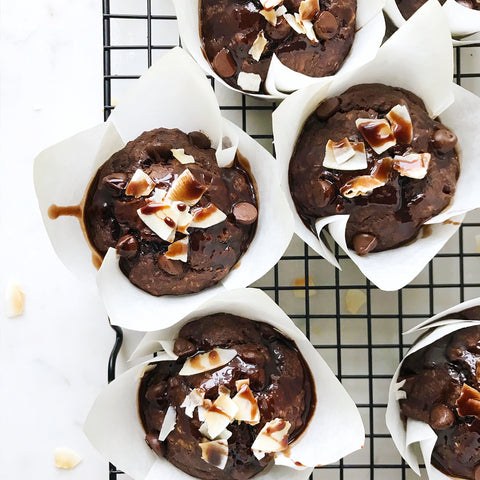 Ingredients
Makes 10 Muffins
2 flax eggs (2 tbsp flaxseed meal + 6 tbsp water)
¼ cup coconut sugar
⅓ cup chocolate hazelnut syrup
¼ coconut oil, melted (measured as a liquid)
¼ cup nut milk, room temp
2 medium ripe bananas, mashed (~1 cup mashed banana)
1 cup whole wheat pastry flour
1 pack (1.36oz) protein powder of choice
2 tbsp Suncore Foods® Cacao Nibs
½ tsp baking powder
½ tsp baking soda
¼ tsp salt 
⅓ cup Suncore Foods® Snow Quinoa Flakes
⅓ cup vegan chocolate chips (+ more for topping)
Coconut chips for sprinkling
Directions
1. Preheat your oven to 350°F and prepare your muffin pan by lining with paper liners or spraying with olive oil. In a small bowl, make your flax eggs; set aside.
2. In a large bowl, combine the coconut sugar and chocolate hazelnut syrup. Add the coconut oil and stir until totally combined. Add the nut milk and mashed banana and mix until smooth.
3. Sift in the flour, protein powder, baking powder, baking soda and salt. Gently fold the dry ingredients into the wet using a large spatula. Add the Suncore Foods® Snow Quinoa Flakes and Suncore Foods® Cacao Nibs and mix until no flour pockets remain.
4. Fill your muffin pan to the top. Sprinkle extra chocolate chips over each muffin, slightly pressing each chip into the batter. Bake at 350°F for 15-20 minutes or until a toothpick inserted into the middle of a muffin comes out with crumbs.
5. Allow muffins to cool for 10 minutes in the pan before removing to a cooling rack. Before serving, you can top with extra chocolate hazelnut syrup and coconut chips. Enjoy!
---