Tropical Pineapple Donuts
It's donut o'clock! We got just the treat for you to start the week right!! Delicious for breakfast, afternoon snack, or try them warm with a scoop of ice cream on top for dessert—these are a dream come true for donut lovers everywhere! Perfectly baked using Suncore Foods® Marigold Passion Fruit Powder, Red Beet, Sparkly Amber Passion Fruit Flakes, and Yellow Goldenberry Powders. These fun & scrumptious Tropical Pineapple Donuts will be your favorite all day everyday with a nice cup of coffee or your favorite cup of drink. This, right here, is the perfect way to brighten the week ahead!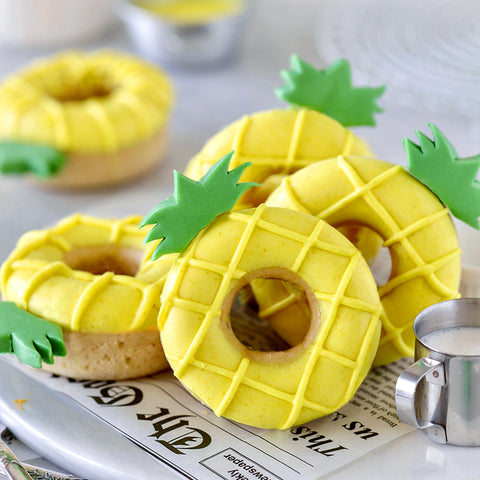 Directions
1. Preheat the oven to 350°F.
2. Lightly grease a donut pan.
3. Combine the apple cider vinegar and milk in a bowl. Let sit for 10 minutes.
4. Sift and mix the dry ingredient in a small bowl.
5. Combine the wet ingredients in a larger bowl. Add your dry batter and mix it with a spatula.
6. Fill your molds up to 2/3 full. Gently tap the mold on the countertop to ensure that it is even.
7. Pop it in the oven and bake for 15-20 mins (or until cooked).
8. Let it cool on a wire rack once it's baked.
9. Mix your melted white chocolate with passion fruit juice and flakes. Add a pinch of turmeric (optional)
10. Dip cool donuts into the yellow ganache.
11. Place it in the fridge to set.
---