Tropical Passion Fruit Mochi Filling Ice Cream
This is the summer dessert you'll want to serve when you really need to impress your guests and your thoughtfulness will be very appreciated. Delicious, sweet, and tangy Passion Fruit Mochi Filling Ice Cream is a pure pleasure to eat and rather addicting. Made with Suncore Foods® Marigold Passion Fruit Powder & Seeds plus Sparkling Passion Fruit Flakes, the taste and tropical smell will incite the best and most wonderful beach vacation memories.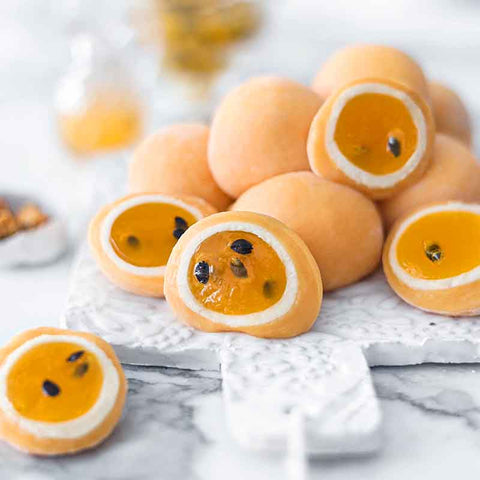 Directions
1. Jelly — Add passion fruit pulp and water into a blender. Pulse the blender to separate the seeds. Strain mixture through a mesh sieve. In a saucepan, bring passion fruit juice to a boil. Add agar-agar, Suncore Foods® Marigold Passion Fruit Powder & Seeds, and stirring constantly until completely dissolve, about 2-3 minutes. Add sugar stirring constantly until dissolved. Lower the heat and let simmer for 1 min. Pour mixture over the silicone mold and refrigerate until set. (Or pour mixture into a small pan and cut into small cubes)
2. Scoop ice cream with a mini ice cream scooper, wrap passion fruit jelly with ice cream. Place into a lined baking sheet, transfer ice cream in the freezer until its ready to wrap with mochi.

3. In a medium bowl combine all mochi ingredients and whisk until smooth, Strain mixture through a fine mesh sieve. Grease a small pan with vegetables oil. Pour the mochi mixture onto the prepared pan. Place into a steamer on medium high for 20 minutes. Turn off heat and let mixture cool.

4. When the mochi is cool enough to handle, oil your hands with vegetables oil, divide the dough into 12 equal pieces (30g each). Put mochi between 2 sheets of plastic wrap and roll into circle. Add ice cream passion fruit filling and close the mochi by pinching at the seams. Coat mochi with rice flour to prevent sticking.
---