The Corniche of Monaco Cookies
Impressionism works of delicious edible art bursting with charming colors using Suncore Foods® Powders. In these cookies, everything in Monet's painting of 'The Corniche of Monaco' come to life shimmery on the high sun, in the lone walker's shadow, and sunlight—it is almost too pretty to eat (keyword: almost). Unleash the artist in you with endless possibilities using our extraordinary selections of Suncore Foods® Powders! After all, life's short; eat the cookies.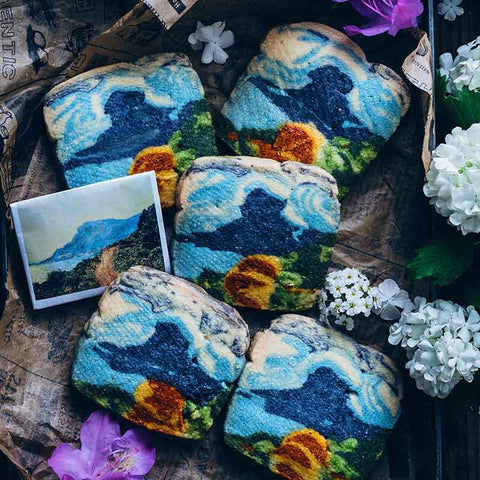 Directions
1. Using a hand mixer, beat butter until creamy. Add powdered sugar and beat until combined. Add the eggs and salt. Beat until well combined.
2. Gradually, add the flour until dough is moist and holds together. Divide the other half into 6 pieces (160g-blue, 160g-dark blue, 120g- green, 100g-white, 30g - yellow, 30g-orange). Add the powders to each dough and knead until the color is well mixed.
3. To assemble, place some green dough on two sides of a mold (left is higher). And orange dough in the middle.
4. Then place some light blue dough on the left to create the lake.
5. Shape the dark blue dough to a mountain shape and place on top. Then fill in some light blue and white dough to create the sky.
6. Wrap with plastic wrap and chill for 30 minutes. Preheat oven to 330˚F.
7. Once chilled, remove the plastic wrap, slice cookies and place on a parchment paper-lined baking sheet.
8. Bake for 15 minutes and reduce the heat to 300 F and bake for another 6 minutes.
9. Cool on a cooling rack.
---