Taro Yam & Sweet Potato Flower Steamed Buns
These beautiful flower buns showcase an elegant lilac purple and pull-apart tapered petals. As stunning as these buns are on their own, the rich purple made with Suncore Foods® Purple Sweet Potato and Lilac Taro Yam Powders, elevate these buns even more with dimension & a gorgeous hue to match the beauty of flowers. Delicately sweet, these fluffy and airy buns are perfect to enjoy alongside a heart-warming cup of milk or breakfast tea to start the day. With such a simple delicacy, it can be difficult to hide any imperfections, but this recipe is super simple & easy to follow, you won't get caught with a dry and tough steamed bun that lacks the addicting squishiness!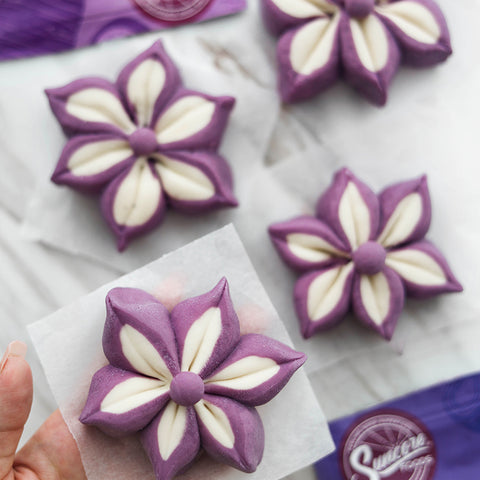 Directions
1. In a large mixing bowl combine all dry ingredients, add in milk gradually, mix into a dough. Cover the bowl and let the dough rest for 1 hour.
2. Divide dough into 2. Knead the plain dough until smooth. Cover with kitchen towel to prevent it from drying out.
3. Add the dissolved Suncore Foods® Purple Sweet Potato Powder & Suncore Foods® Lilac Taro Yam Powder to the second portion of dough, knead until well incorporated, dough becomes smooth. Cover and set in a warm place to rise for 1 hour.
4. Turn the dough onto a clean work surface. Knead the dough by hands for 5-6 mins or until the dough becomes smooth. Add more flour if needed.
5. Shape the bun. Place buns on parchment paper squares. Cover and set in a warm place to rise for 30 minutes.⁣
6. Steam buns for 25-30 minutes on low heat. Serve warm. Enjoy! ⁣
---